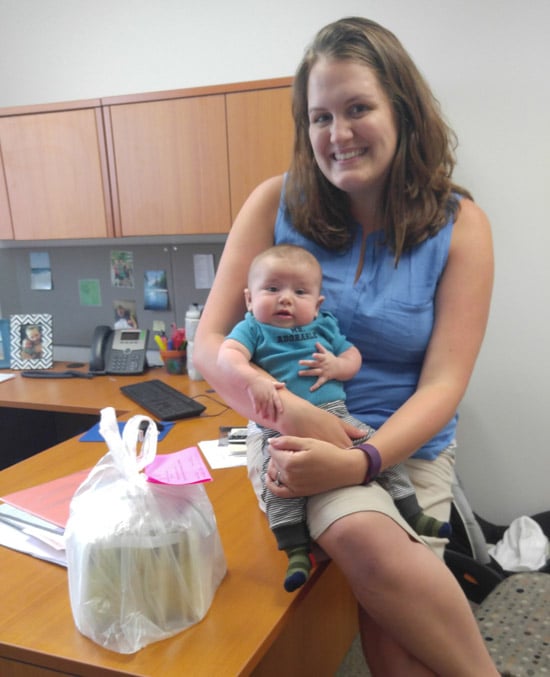 The milk bank staff and board are sad to say goodbye to Danielle Hebert, who is leaving after two years as Office Manager to take the next step in her career development.
From her very first day, Danielle gained the respect and trust of everyone on staff as she implemented new systems to keep the office functioning at its best. For visitors, she has been the public face of the milk bank—the friendly greeter in the reception area, and the kind voice on the phone. Behind the scenes, her extensive administrative and accounting skills enabled her to manage complex projects plus daily operations, all the while keeping the books balanced and the staff organized.
"I love being greeted cheerfully by Danielle every time I walk into the milk bank," says Board President Ruth Vishniavsky. "She always offers to help whenever we have an event or board meeting, and I know I can count on her.  It is pure joy to work with Danielle. I wish her the best in the growth of her career. I hope that she keeps in touch, and that she and her wonderful children and family do well."
Recipient and Production Coordinator Cynthia Cohen notes what a difference Danielle has made. "She stepped into her role and immediately made vast improvements. She organized the office, set up many helpful and desperately needed protocols, and provided assistance on many levels." 
Marketing and Communications Coordinator Sybil Sanchez works from New York, and feels Danielle's impact even from a distance. "As someone who works outside of our main office, having organized and empathetic administrative support on the other end of our remote connection has been especially meaningful. We are a tight team and our milk bank is driven by compassion in reciprocal directions—from both the top down and the bottom up. Danielle always puts a face on what that means by operationalizing our values in day to day action. She will be sorely missed."
The milk bank relies on volunteers, and Danielle always takes care to ensure they feel appreciated.  "One of the things I like about Danielle is that she constantly tells me that I'm the best—who doesn't love hearing that?" says Melanie Ullman. "Danielle is a patient teacher of filing and organizing, and she is always so grateful for whatever little help I can provide."
Louise Kittredge, who has volunteered at the milk bank since its early days, credits Danielle for helping bring the organization to a new level. "I don't think the milk bank would have come as far as we have if Danielle hadn't come on board when she did. Any well-organized, hard-working person would have been good, but Danielle's combination of smarts, enthusiasm initiative, hard work, and practicality make her, as they say, special."
Danielle will be moving on to a position as an accountant at a company closer to her home. Her goal has always been to pursue finance full-time. We are grateful to have benefited from her skills in both finance and office management for the two years she was here.  We will also miss her two adorable boys. Landon visited on school breaks, and Travis grew up as one of our "office babies"; he even shared his milk when Danielle became a milk donor. Danielle was indeed committed to the milk bank's mission in every way. Danielle, we will miss you!