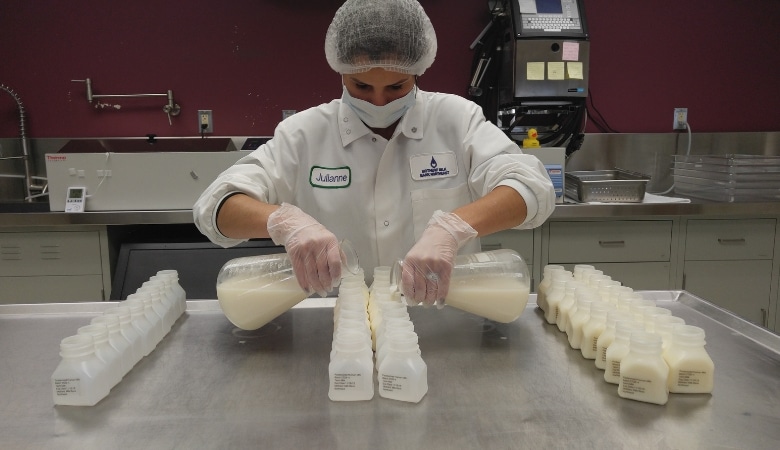 Overview
Mothers' Milk Bank Northeast seeks a reliable, well-organized, full-time Laboratory Manager to handle day-to-day operations, with an emphasis on safety, efficiency, teamwork and time management. The Laboratory Manager is responsible for overseeing the pasteurization of donor breast milk, mentoring and managing three lab technicians, as well as stewardship of the lab.  This professional will ensure that staff follows industry standards and safety regulations for handling and disposing of donor breast milk.  The Laboratory Manager will often handle secure documents.
To apply: Please send resume and cover letter by Wednesday, July 31, 2019 to Jane Norris. Applications without a cover letter will not be considered. No phone calls.
Responsibilities
Lab
Oversees and carries out all aspects of milk logging, storage, and processing
Maintains lab standards for cleanliness and organization to ensure safety and efficiency
Tracks key laboratory indicators
Supervises freezer organization
Enters processed milk lab and production results into databases
Facilitates transfer of raw milk to milk banks in need of donor milk
Administrative
Reviews supply, sales demand, and product availability to create weekly production schedule
Attends weekly meetings with Director of Finance, Office Manager, Shipping Manager, and lab technicians to discuss current issues, resolve problems
Interacts with all other departments (Donor Intake, Marketing, Customer Relations, Finance, Shipping) to facilitate the flow of processed milk to hospitals and individuals
Interfaces with vendors/suppliers for testing of milk, bottle replacement, equipment purchase and repair
Leads monthly inventory and reconciliation of processed milk, raw milk, bottles, and shipping materials
Manages lab supplies
Qualifications
BA or BS preferred
2-3 years lab supervisory experience preferred
Knowledge of food manufacturing (PCQI a plus) and lab procedures, administrator responsibilities and systems
Proficient with MS Office (MS Excel and MS Outlook, in particular), FileMaker (can train), QuickBooks (can train)
Excellent time and staff management skills, ability to multi-task and prioritize work
Attention to detail
Problem-solving skills
Excellent written and oral communications skills
Strong organizational and planning skills
Experience with teams, including managing lab team and interfacing with other staff teams.
Job Type: Full-time (40 hours)
Salary:  $25-28 per hour, commensurate with experience. Benefits can include health insurance, IRA after six months.
Location: Newton Upper Falls, MA
Mothers' Milk Bank Northeast is a non-profit community milk bank certified by the Human Milk Banking Association of North America (HMBANA). Our mission is to provide safe, donated, pasteurized human milk to babies in fragile health throughout the Northeastern United States. Mothers' Milk Bank Northeast is an equal opportunity employer.