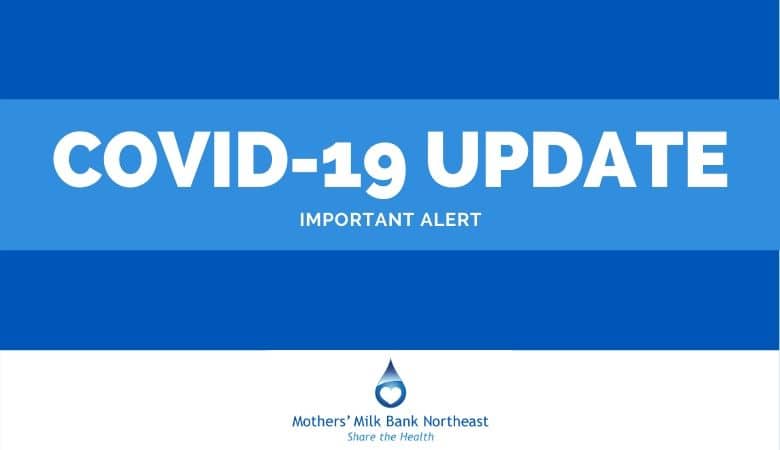 On behalf of the entire staff at Mothers' Milk Bank Northeast, we want to thank you for being part of our extended family—the healthcare providers, milk donors, families, financial supporters, and community members who make our work possible and trust us to provide safe, pasteurized donor human milk to babies in need. Safety and health are at the core of our mission. Like all of you, we have adopted emergency protocols during the COVID-19 public health crisis.
HMBANA Statement on COVID-19
We encourage you to read the statement on COVID-19 from the Human Milk Banking Association of North America (HMBANA), our accrediting agency. It will answer most questions on what we know about the virus and human milk, as well as on the safety and screening practices we and other HMBANA milk banks employ to ensure a safe milk supply. It is available here on our website.
Since HMBANA's founding in 1985, there has never been an incident of disease transmission or a negative outcome in an infant due to the processing or distribution of pasteurized donor human milk by a member bank.
Increased Vigilance
In addition to our customary high standards for safety and sanitation, we have increased vigilance within our workplace, including limiting staff and visitors to essential personnel only; keeping distance between workers; keeping out individuals with any signs of illness; disinfecting frequently-touched common areas and surfaces; and more. In screening donors, we have instituted additional questions about travel and risk factors; education about hygiene; and deferrals as needed.
Triaging Milk
In accordance with HMBANA guidelines, which prioritize the most fragile infants, we have temporarily restricted our milk supply to only level 3 and level 4 NICUs—the units that care for the youngest and most fragile infants, for whom donor milk is a lifesaving intervention. This was a difficult decision, and we enacted it in order to ensure that we can supply milk to the babies who need it the most for as long as possible. We look forward to a time in the near future when we can once again send milk to special care nurseries, well-baby units, outpatient dispensaries, and individual families.
Please feel free to reach out to us for questions. We will provide updates when we have new information. Thank you for your support of our organization.