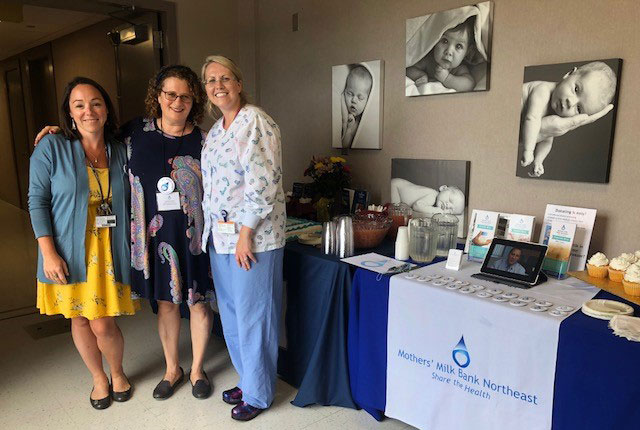 We are pleased to announce the opening of our first Vermont milk depot, at Springfield Hospital. On July 10, families, community members, and hospital staff gathered at a celebratory event, with our Director of Client Relations, Cynthia Cohen, cutting the ceremonial ribbon.
Hospital's mission to support families
Hospital CEO Timothy Ford set the supportive tone for the event with his moving comments about how the new depot reflects the hospital's mission of taking care of families. Childbirth Center nurse Ashley Bielarski was one of many excited staff members attending the celebration. Ashley offered the depot's first donation of milk, accompanied by her husband, children, and mother-in-law. "I am both proud and honored to be a breast milk donor," said Ashley. "Mothers' Milk Bank Northeast has helped me to contribute to the world in a way that I couldn't have imagined. I encourage those who are considering this type of contribution to do so. There are countless babies who are in need who would greatly appreciate your gift."
New donor milk program to serve the community
Adding to the excitement at the event was a surprise announcement by Erin Waysville, RN, CLC, Clinical Leader of the Childbirth Center, that the hospital will soon be offering donor milk to its patients. "Our goal is to have pasteurized donor milk available on our unit in the near future so physicians can prescribe to newborns in need, and help new mothers fulfill their wish to exclusively breastfeed their child." The crowd cheered the announcement that the hospital would soon have options for both donating and receiving milk.
Lyndsy McIntyre, RN, CLC, Director of Springfield Hospital's Childbirth Center, worked closely with Erin to organize the depot. She commented, "We know that the benefits of breastmilk are numerous and long lasting for both women and children, so we are incredibly proud of our partnership with Mothers' Milk Bank Northeast and our opportunity to improve access to breastmilk in our local community."
Media coverage of depot opening
The media covered the event extensively. Read more on these sites:
Dropping off milk at the depot
Milk donors who have completed the donor screening process can make an appointment to drop off at the new depot by calling 802-885-7511. The depot is located at the hospital's Childbirth Center, 25 Ridgewood Drive, Springfield, VT 05156.