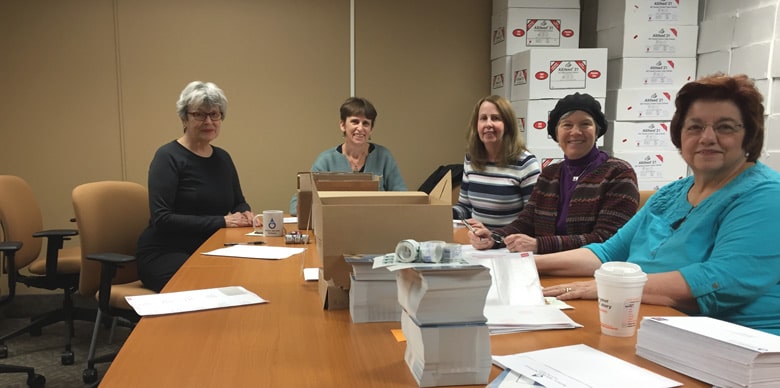 We welcome volunteers of all ages and experience levels as valued members of the milk bank team, working together to serve the tiniest, neediest babies. Some people volunteer once or twice a week, some occasionally, and others for a focused period of time while working on a special project. Every day at the milk bank, staff members and volunteers gather for lunch, a time when we get to know everyone, share personal and professional experiences, and brainstorm about issues.
Here is a sample of current and recent volunteer activities. If you have ideas for new ways to help let us know so we can consider them!
Several active retirees come in weekly to handle packing and shipping, data entry, mailing promotional materials, compiling blood test kits, editing documents, and organizing files.

College-age interns and public health students have worked on research and social media projects during the summer.

The teenage son of a staff member gained community service hours on school break by labeling bottles, moving furniture, and organizing the supply closet.

Doulas, lactation professionals, nursing students, and moms often staff tables at conferences and baby fairs in several states (You don't need to live near the milk bank to volunteer!).

A local special education program regularly sends a group of students to learn workplace skills.

A retired physicist tackled some design-build challenges in our lab, assisted by a group of engineering students.

Two volunteers are on call at home for selected IT and marketing projects.

Three retired executives helped us write a marketing plan over several months.

A past milk donor who is a media professional does milk bank outreach on social media.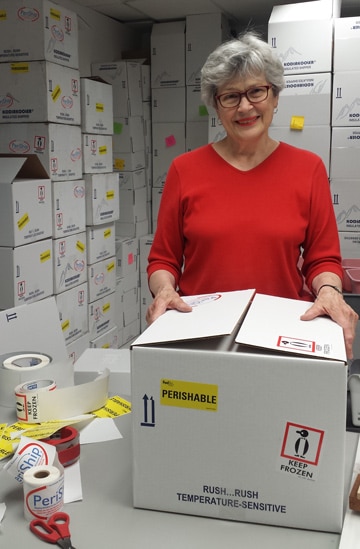 "All the staff and volunteers are really fun people!" – Louise
"The milk bank is my respite place, where the quiet atmosphere of good people doing an important job instills a deep sense of peace and calm in me while I am there." – Linda
"I love volunteering at the milk bank because I get to be with amazing women, and do meaningful work that helps so many people. It is a highlight of my week!" – Melanie
Interested in volunteering? Please fill out the Volunteer Intake Form or contact Ann Marie Lindquist, Director of Community Relations. We look forward to working with you!