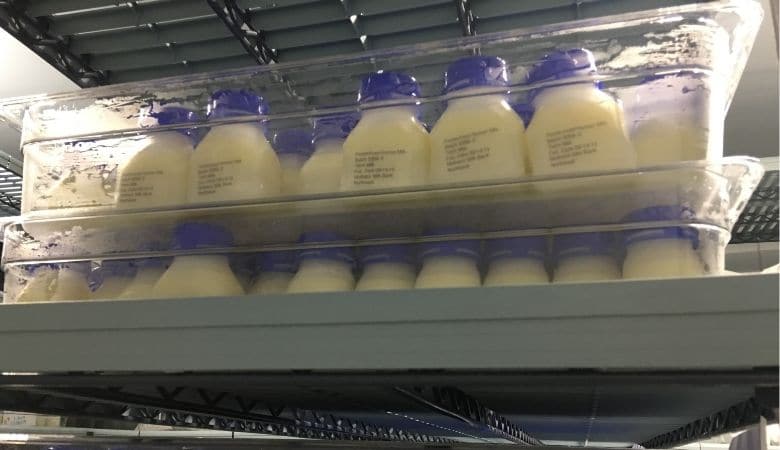 A donor milk dispensary is a community location where a family whose baby has a prescription for donor breast milk can fill the prescription, purchase the milk, and take it home. This option can be helpful for babies who are not hospitalized. If you do not live near a dispensary, visit our Receive Milk page to learn how to order milk for shipment to your home.
During the COVID-19 crisis, we will note changes and temporary closures under each dispensary's listing as we receive updates.
DISPENSARY LOCATIONS
Massachusetts
Northampton Area Pediatrics
193 Locust Street
Northampton, MA 01060
413-584-8700
Limited hours starting Nov 28, 2022. Tuesdays, Wednesdays, and Fridays until 2:15PM – please call ahead to inquire about availability.
Please be sure to bring a prescription from your healthcare provider.
Connecticut
ProHealth Physicians, Glastonbury Pediatrics & Adolescent Medicine
290 Western Blvd.
Glastonbury, CT 06033
860-652-3325
Maine
Pediatric Associates of Lewiston, PA
33 Mollison Way
Lewiston, ME 04240
207-784-5782
Open Monday through Friday 8 am – 5 pm. Call ahead for an appointment.
For questions, email or call and ask for Darcy Millett, CCMA.
Please be sure to bring a prescription from your healthcare provider, or the dispensary can help arrange a prescription for you.
Personalized Pediatrics of Maine
205 Ocean Ave
Portland, ME 04103
207-409-0901
Open Monday through Friday. Please email (doc@mainepeds.com) or call ahead to arrange appointment with Dr. Ali Kopelman.
New Hampshire
Women's Health Resource Center
Dartmouth-Hitchcock Medical Center
9 Hanover Street
Lebanon, NH 03756
Open Monday, Wednesday, and Thursday 9 am – 3 pm; Tuesday and Friday 10 am – 5 pm
603-650-2600
LRGHealthcare Mothers' Milk Center
Caring for Kids
Belmont Medical Center
8 Corporate Drive
Belmont, NH
603-528-0995
4/3/20: Dispensary operations temporarily suspended
Vermont
Vermont Donor Milk Center
37 Lincoln Street
Essex Junction, VT 05452
802-276-0030