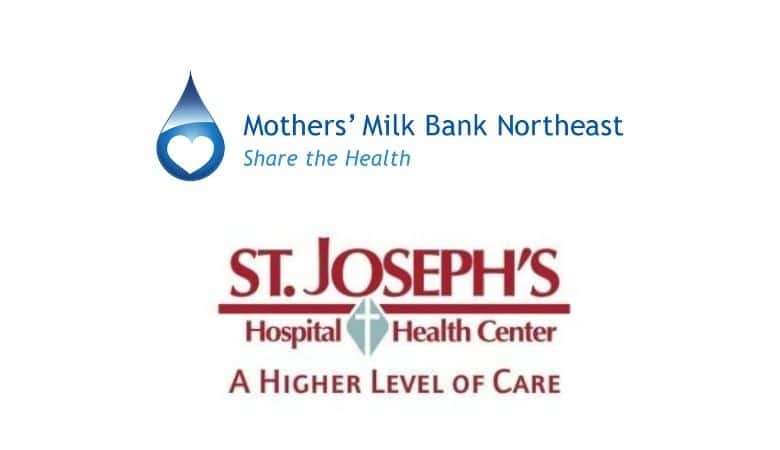 Contact: Betsy Bedigian
315-744-1673
For Immediate Release
St. Joseph's Hospital Health Center to Provide Donor Milk as Standard of Care
Syracuse, New York (May 26, 2015) – St. Joseph's Hospital Health Center is introducing pasteurized donor human milk as standard of care for premature infants in our 14 bed Level III Neonatal Intensive Care Unit.
"As a Baby Friendly hospital, we understand there are significant short and long-term benefits of feeding premature infants human milk," said Jonathan Chai, Department Chair, St. Joseph's Neonatal Intensive Care Unit (NICU). "In those times when the mother's milk is not available, it is important to us to support the baby's healthy development by offering donor milk."
St. Joseph's is one of 12 New York hospitals currently offering donor milk from Mothers' Milk Bank
Northeast (MMBNE), a nonprofit community milk bank operating under the guidelines of the Human Milk Banking Association of North America (HMBANA). "Our goal is always to have mothers nurse their own babies, but sometimes it is necessary to provide a supplement while the mother's milk comes in," commented Dr. Robert M. Insoft, medical director of MMBNE.
Some mothers have more milk than their babies need and generously donate this gift of health to other mothers and babies in need. In New York State alone, 266 mothers from 32 counties have donated milk within the past three years. This includes 4 mothers from Onondaga County, plus mothers from every New York City borough and major metropolitan area in the state.
Milk donor screening, modeled after blood donor screening, includes health history, physician approval, and blood test. These are some of the many measures taken to assure the safety of milk for the fragile premature, and sick babies served by MMBNE and the hospitals that use the milk. Milk from mothers who pass the screening is also pasteurized and tested by an independent lab to ensure safety before being dispensed to hospitals or families.
Donor milk can be lifesaving for preterm infants. It is especially protective against a life-threatening condition called necrotizing enterocolitis (NEC), which affects one in ten of the smallest preterm infants. A human milk diet is estimated to lower the risk of this condition by 79%. It also lowers hospital costs by reducing costs for care and shortening hospital stays.
Donor milk is rapidly becoming the standard supplement to mothers' milk for preterm infants in neonatal intensive care units (NICUs). This has led to greater demand for safe pasteurized donor human milk from nonprofit milk banks like MMBNE. MMBNE has been screening donors, pasteurizing milk and dispensing to over 40 hospitals and to families throughout the Northeastern United States since 2011.
"We applaud the vision of St. Joseph's and are delighted to work with them to provide this service to Syracuse families. This is part of a larger movement that is recognizing not only the importance of breastfeeding and human milk, but the potential harm of artificial formulas for our most vulnerable babies," said Naomi Bar-Yam, Executive Director of MMBNE.
Mothers who wish to donate milk can check the guidelines on the MMBNE website, www.milkbankne.org, and call 617-527-6263 x3.
St. Joseph's Health is a non-profit regional health care system based in Syracuse, N.Y., providing services to patients throughout Central New York and northern Pennsylvania. From primary to specialty to home care, to our Magnet-recognized hospital, and in collaboration with our community partners, St. Joseph's coordinated approach ensures our patients achieve optimum long-term health. Ranked top 15 heart surgery centers in the U.S. and a 15-time winner of the National Research Corporation Consumer Choice award, St. Joseph's is affiliated with Franciscan Companies and St. Joseph's Physicians.