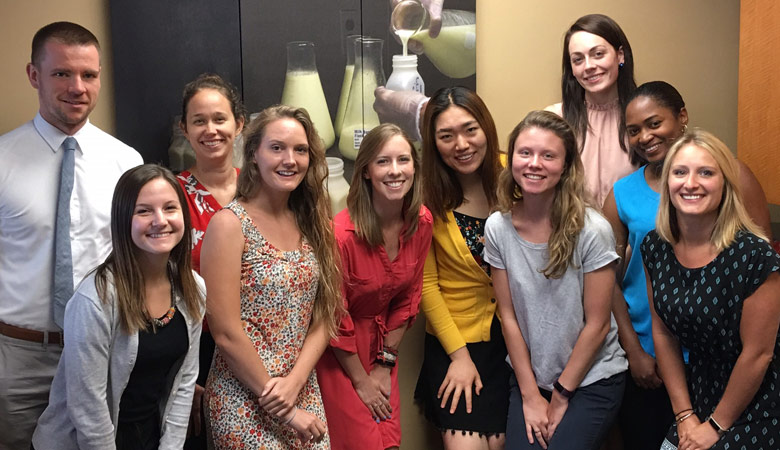 By Sybil Sanchez
For World Breastfeeding Week, Mothers' Milk Bank Northeast not only opened three depots in three states, we also had a week marked by a whirlwind of visits and celebrations. Through the wonders of blogging and the internet, we are delighted to share some of the joy we encountered in celebrating our nonprofit milk banking community this month.
This year, World Breastfeeding Week started early for us with an amazing advance story by Syracuse-based donor Virgie Townsend about her experience of donating her breast milk. First posted in The Washington Post, Virgie gave us permission to reprint her article in full on our website, and it was subsequently reprinted in The Lily and The Hamilton Spectator, and covered in PJ Media.
Also in late July, one of our donor families stopped by to visit the milk bank on the way to their vacation destination. This is always an enjoyable moment for us and the families, especially when there are older children who get to see the milk bank lab in action and then play in our play room before the family hits the road again.
Our director of client relations, Cynthia Cohen, had the pleasure of attending a World Breastfeeding Week fair celebrating the journey of Saint Vincent Hospital in Worcester to becoming a Baby-Friendly Hospital. Their level 1 and 2 nursery donor milk program serves full term babies in need of donor milk as a bridge to help with breastfeeding initiation or for other reasons.
Cynthia took special inspiration in hearing Dr. Bobbi Philipp of Boston Medical Center talk during grand rounds about how donor milk has helped increase breastfeeding exclusivity rates. Visitors to our table included the wonderful hospital lactation consultants and a mother who stopped by with her own mother to share how donor milk saved her baby's life.
Our executive director, Naomi Bar-Yam, Ph.D., who is also the president of the Human Milk Banking Association of North America, participated in the University of Albany School of Public Health Breastfeeding Grand Rounds, a free webinar that remains available online. The topic, "The Impact of Social and Cultural Values on Breastfeeding Practice and Strategies to Address Disparities," addressed the social and cultural barriers to health equity.
This is a topic of broad interest in the nonprofit milk banking world as it relates to our key mission – to ethically source human milk that is equitably distributed to all babies in need. A Storify Twitter summary covers the key points in quick, tweetable form.
Danielle Hebert, our previous office manager, who remains a part of our family, voluntarily staffed a table for us at the Rhode Island Breastfeeding Coalition fair at the Roger Williams Park Zoo in Providence. Her favorite part of the event was seeing a relaxed breastfeeding mother everywhere she looked. What better place to breastfeed than the zoo!
On the tail end of the week, we hosted a tour for 10 nutrition students from the Massachusetts General Hospital Dietetic Internship program. It is always wonderful to have the opportunity to educate health professionals, especially at the beginning of their careers. They will enter the field in a diverse array of jobs, but with breastfeeding and donor milk as part of their basic vocabulary.
In this whirlwind of World Breastfeeding Week activities, we were especially appreciative to end on a forward-looking note, meeting and teaching tomorrow's leaders in health and nutrition. While the week is now technically over, National Breastfeeding Month continues and concludes with Black Breastfeeding Week in the last week in August.
Let the celebrations continue – online, at the milk bank, and in communities throughout the Northeast and beyond!