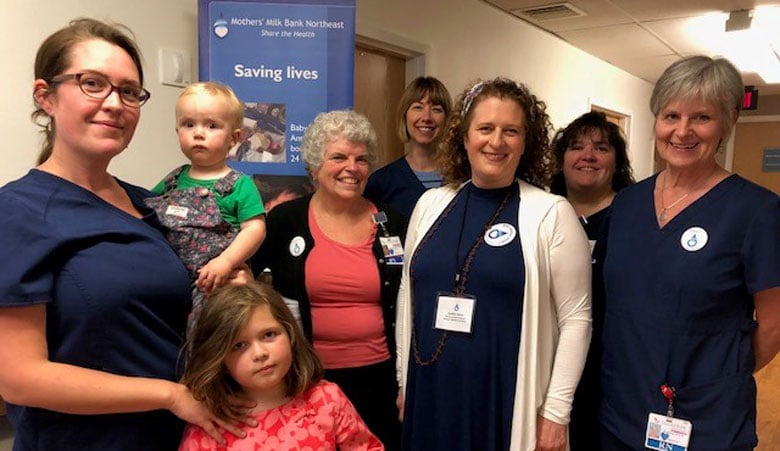 Maine now has a third human milk depot! On May 8, 2018, LincolnHealth-Miles Maternity in Damariscotta hosted the depot's grand opening in a warm, joyous celebration in keeping with this hospital's focus on family and community.
LincolnHealth Pharmacy Technician Cassie Balser, who had been donating milk to Mothers' Milk Bank Northeast for several months, helped open the depot officially with a large donation of frozen milk. Excited to have a depot close to home, Cassie commented, "I donate because I know there is a need in the community and I am blessed with producing enough milk to be able to help. It is such a great feeling being able to help out not only the babies, but the mothers who wanted to provide breast milk for their babies but for some reason are not able to."
Cassie was joined at the opening by many other hospital staff members as well as parents from that afternoon's childbirth education class. Both the milk bank and the hospital are committed to raising awareness during the prenatal period, so that parents know that donating and receiving milk are options after their babies arrive.
The depot is a natural extension of the hospital's strong support for breastfeeding. When Elizabeth Cole, RN, approached us last year about becoming a depot, she explained, "We are also celebrating 20 years of being a Baby-Friendly designated hospital! As the first Baby-Friendly hospital in Maine [and the fifth in the nation], we feel that becoming a milk depot is a part of our mission and continues to strengthen our ties to the community in support of women, children, and families."
Community support has continued to grow since the opening, as the hospital has distributed hundreds of rack cards on milk donation to all of their pediatric and family practices as well as area businesses and organizations that have reached out asking for information. "We are honored to be able to give back to community in this new way," commented LincolnHealth Obstetrics Unit Manager Lynn Plumb, RN. "The other two depots in Maine are in Portland and Yarmouth. LincolnHealth-Miles Maternity is now a convenient drop-off point for mothers throughout the Midcoast region and beyond."
Mothers who have been fully screened to donate milk can schedule a time to drop off milk at LincolnHealth-Miles Maternity by calling 207-563-4536.