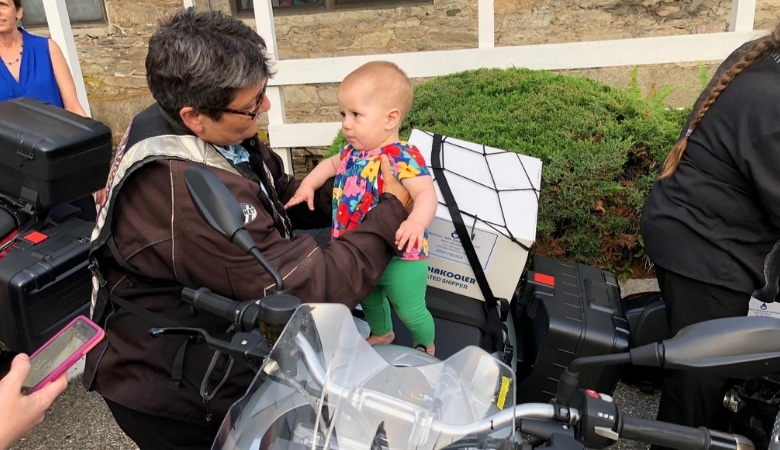 And they're off! The all-women's Moving Violations Motorcycle Club now delivers donor milk for Mothers' Milk Bank Northeast in our new Bikers for Babies program.
Biker Orientation at the Milk Bank
The women of the motorcycle club rode together to the milk bank on August 21 for program orientation. Milk bank staff carried shipping boxes of various sizes out to the parking lot, where bikers tested out straps, bungee cords, nets, and saddle bags, finding ingenious ways to safely secure the precious cargo to their bikes. Then the bikers moved inside for a tour of the milk bank, watching through a large glass window as lab technicians processed milk, some of which might ultimately find its way to the back of a bike for delivery. Next the bikers gathered with staff to finalize logistics and sign up to ride. See photos of the orientation at the bottom of this post.
TV and Radio Coverage of Program Launch
WGBH sent both television and radio reporters to cover the launch of the program. Check out two different features at this link; at the top of the page, click "Listen" to hear reporter Gabrielle Emanuel's radio story, and in the middle of the page, click the photo to view reporter Stephanie Leydon's story on the TV program Greater Boston.
Roots of the Program
In the United Kingdom, bikers have been delivering milk, blood, and other medical products for many years. Loocie Brown, current Moving Violations president, heard about a similar program called Milk Riders in New York, and reached out to the Sirens Women's Motorcycle Club of NYC and the New York Milk Bank to learn how her Boston-based club could volunteer to deliver milk. From there, the program took off, spearheaded by Judy Thrasher, president of the club at that time.
Biker Volunteer Spirit
In May, Director of Community Relations Ann Marie Lindquist and Shipping and Accounts Manager Rachel Karten attended the motorcycle club's annual meeting. "I was blown away by the level of enthusiasm and spirit I saw at this meeting," said Ann Marie. "They asked for a volunteer to coordinate the program, and Daryll Drew's hand shot up. Clearly these bikers are dedicated to working together for the good of the community." In fact, the club regularly sponsors rides and fundraisers for charities that benefit women and children, so Bikers for Babies aligns perfectly with their mission.
In Memory of Biker Denise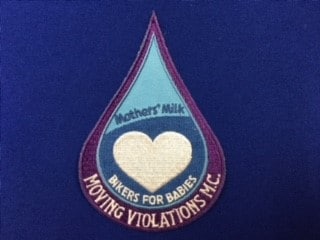 In June, Daryll attended a milk bank open house with biker Denise Marika, a video artist and documentary filmmaker who had begun sketching designs for a logo for the joint program, combining elements of the milk bank and motorcycle club logos. Sadly, Denise passed away just a few short weeks later. In her honor, the club called the program Bikers for Babies, a name Denise had coined, and realized Denise's design in a patch that bikers now earn by delivering milk, and wear with pride on their vests.
First Delivery
On September 8, Daryll officially launched the program with the first delivery, picking up milk from a family with two children who were excited to test out Daryll's bike: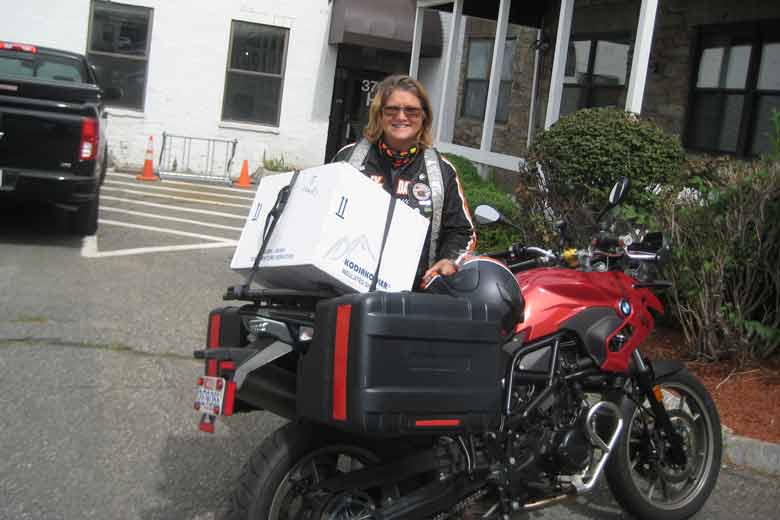 Flexibility, Financial Savings, and Fun
The program has enabled the milk bank to deliver milk on Saturdays, which was previously logistically difficult and financially untenable. A few weeks into the program, bikers made five deliveries on one Saturday alone. Some bikers also deliver on weekdays. Families appreciate the flexibility and fun of a biker delivery, and the milk bank has seen real cost savings in shipping. Families receiving milk following discharge from the hospital may also opt for biker deliveries, which can ease the burden on parents who might otherwise drive to the milk bank for an urgent pickup during a stressful time.
If you are a milk donor or recipient family and you'd like your next delivery to arrive on a motorcycle, ask the milk bank staff for one of our Bikers for Babies!
Here are photos of the Bikers for Babies orientation at the milk bank on August 21: