Maine's first donor milk dispensary opened on July 18, 2019 at Pediatric Associates of Lewiston. The grand opening was a huge success thanks to the supportive community and the enthusiasm of Dr. Linda Glass, Certified Lactation Counselor Jenny Desmarais, and their team of dedicated pediatric professionals. The dispensary was beautifully decorated with family-friendly murals, and the space was filled with an assortment of treats, such as the clever and tasty "got milk?" cookies in the photo above.
A donor milk dispensary is a community location where local families whose babies need supplementation can obtain pasteurized donor human milk. Families can receive up to 40 ounces of donor milk without a prescription. If more than 40 ounces are needed, then a prescription from a healthcare provider is necessary. This is the second outpatient donor milk dispensary for Mothers' Milk Bank Northeast, following the successful launch of our New Hampshire dispensary at the LRGHealthcare Mothers' Milk Center last December.
At the time of this opening event, Lewiston was rapidly establishing itself as a hub of donor milk activity, with this dispensary, a milk depot at Central Maine Medical Center, and two hospitals on the verge of offering donor milk to their patients for the first time.
Donor milk as a bridge to breastfeeding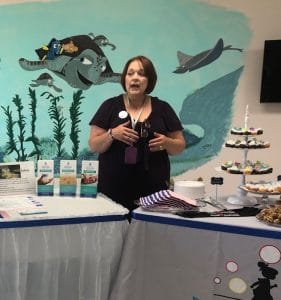 Outpatient donor milk dispensaries play an innovative and important role in supporting breastfeeding mothers in the early days and weeks after birth. Linda Glass, MD, FAAP, voiced her excitement for this new program and her eagerness to partner with local hospitals and nearby towns. In her compelling comments, Dr. Glass explained that when a baby is not gaining in the early postpartum days, using donor milk as a supplement "keeps the breastfeeding going" and serves as a bridge to breastfeeding. In line with Dr. Glass's clinical expertise, research has shown that mothers view donor milk as a temporary help, rather than a final solution, which enables them to continue to breastfeed.
Mom who donated milk attended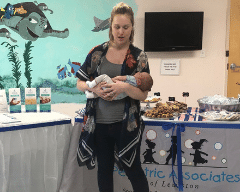 Allison Bruno described her experience as a milk donor. She has donated over 2,000 ounces to Mothers' Milk Bank Northeast. Allison spoke of how her sister gave birth to preemie twins, and pumped for one of the twins who stayed in the NICU for a month. "That's when I really saw the power of breast milk," said Allison. "I knew when I started to have a little more extra supply that donating was what I really wanted to do … I was really happy to share my milk."
Mom whose baby received donated milk attended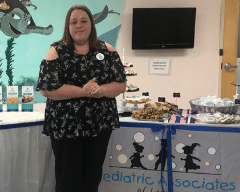 Local mom Sheena expressed her thanks for having donor milk available to her baby in the hospital. With tears in her eyes, Sheena spoke about how her daughter was born early, and how she was not able to produce enough milk for her.
"I'm just really grateful that she had that opportunity to be able to receive that. I truly believe it gave her the best start to life, because I wasn't able to produce enough for her," said Sheena. "I tried. I pumped around the clock. I did everything I possibly could."
Television and print media coverage
Press coverage of the opening was supportive:
Receiving milk at the donor milk dispensary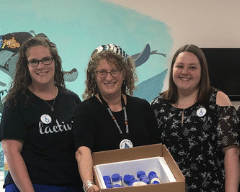 The donor milk dispensary is located at Pediatric Associates of Lewiston, 33 Mollison Way, Lewiston, ME, 04240. Please note that the dispensary is available to the public by appointment only. Operational hours are Monday – Friday from 8:00 am – 5:00 pm. Parents can bring a prescription from their baby's healthcare provider, or the dispensary staff can help arrange a prescription for them.
In addition to the donor milk dispensary, Mothers' Milk Bank Northeast also has six milk depots in Maine, where screened donors can drop off milk for shipping to the milk bank.