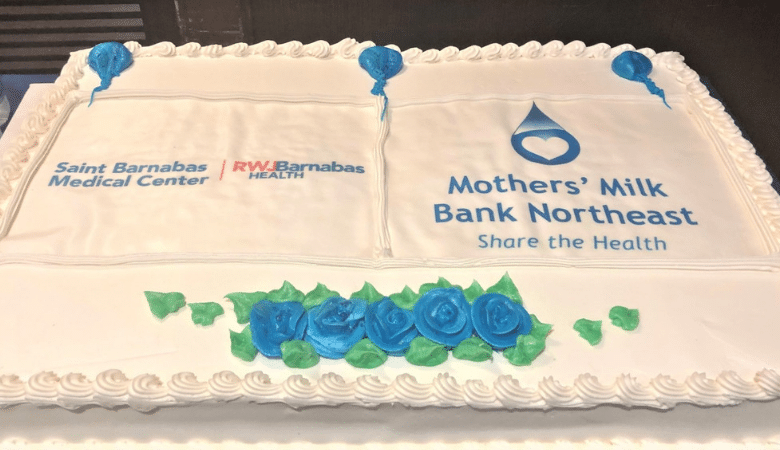 We are pleased to announce the opening of our first New Jersey milk depot, at Saint Barnabas Medical Center. On August 13, families, community members, press, and hospital staff gathered at the opening event, which also celebrated the expansion of the hospital's donor milk program from the NICU to the well-baby unit.
A milk depot is a community location that accepts milk from screened donors, stores it in a freezer, and ships it to the milk bank for processing and distribution to hospitals and outpatients.
Hospital provides donor milk in all nurseries
In an interview with NJBIZ, Dr. Kamtorn Vangvanichyakorn, NICU director, spoke about the newly expanded program:
"At Saint Barnabas Medical Center, we have been providing banked breast milk for our NICU babies for many years. We are celebrating the expansion of this program to provide banked breast milk for babies in all of our nurseries when a mother is unable to breastfeed or requires supplementation. In addition, we will open our depot for authorized mothers to donate their milk."
Mom who donated milk attended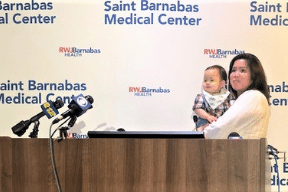 Gidget Romero was the first mom to donate to the Saint Barnabas milk depot. She described her motivation for donating:
"I just happened to have overproduction of milk, and when I heard about milk banking, and the need of that for other babies to thrive, I was on board all throughout … I couldn't be more excited to be on board and donate."
Mom whose babies received milk attended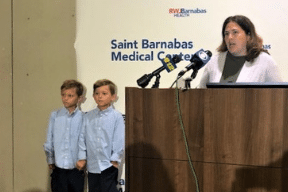 As reported on NJTV News, Laura Lomonte spoke movingly about her experience receiving donor milk for her premature twin boys:
"When a mother has a baby at twenty-nine weeks, it's not the most natural thing, so their body has, you know, time and processing and healing before they can start producing their own milk. And for [my boys] to finally start eating and gaining weight, they needed the breast milk, and it just wasn't something I could give them at that time."
Television and print media coverage
Press coverage of the opening was extensive:
Dropping off milk at the depot
Milk donors who have completed the donor screening process can make an appointment to drop off at the new depot by calling 973-322-5684. The depot is located at 94 Old Short Hills Road, Livingston, NJ 07039.