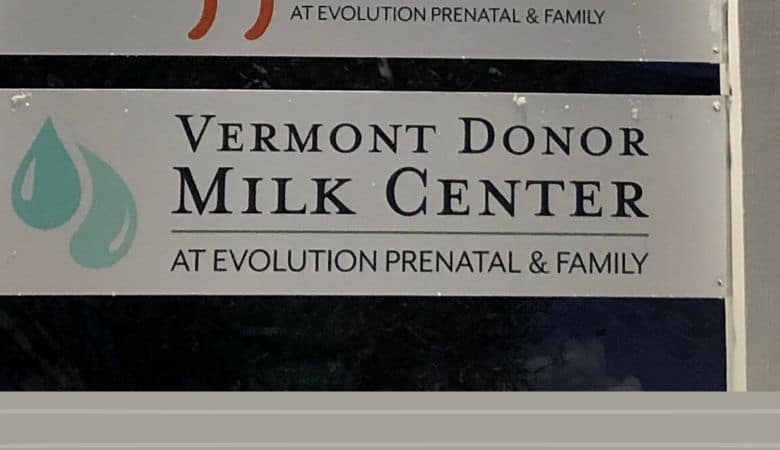 There's an innovative new way for Vermont families to get donor milk: the nonprofit Vermont Donor Milk Center opened on January 6 in Essex Junction. We are proud to partner with this unique community resource, which offers an outpatient donor milk dispensary, a depot for our milk donors, and lactation services.
As in many areas, Vermont families have access to donor milk in the hospital, but face challenges receiving it once they go home with their babies. Parents can always order milk to be shipped overnight from our milk bank. Now they have same-day access in person by prescription at the Center's dispensary, which offers milk from Mothers' Milk Bank Northeast. Milk donors screened by us can also drop off their milk at the Center's depot, and any breastfeeding parent can receive lactation support there.
As the Center's Co-Executive Director Amy Wenger told WCAX, "This is a no-brainer. We have a gap in care, here. We are supplementing our babies and having great results in the hospital, on donor human milk both in the NICU and in the newborn nursery; we should really have access to this in the outpatient realm."
Milk bank providing financial assistance
The dispensary's milk is available on a sliding fee scale to parents, to help ensure that any baby who needs donor milk can receive it. Mothers' Milk Bank Northeast has granted the Center $5,000 from our Special Assistance Program to help subsidize milk for Vermont families with financial need. (Families outside of the Vermont Donor Milk Center's service area can apply to us directly for subsidized milk through our website).
The Vermont Donor Milk Center houses one of our milk bank's four outpatient dispensaries. The others are in Bedford, New Hampshire; Lewiston, Maine; and Northampton, Massachusetts. The Bedford and Northampton sites also house depots, and the Lewiston site is near a local depot.
A happy partnership and shared vision
In May 2019, Amy met our Director of Community Relations, Ann Marie Lindquist, at the Vermont Lactation Consultant Association conference, and described her vision of an outpatient dispensary accessible to all Vermont families. Soon thereafter, Amy visited the milk bank with Rachel Foxx (now Co-Executive Director) and Susan Cline Lucey, founder and owner of Evolution Prenatal and Family Yoga Center, which now houses the Center. Our shared vision of improving access to donor milk made for a happy partnership. In no time these dedicated and energetic advocates from Vermont had recruited a board, secured nonprofit status, launched a fundraising campaign, and begun their build-out.
Press coverage
The Center officially opened on January 6 to great community excitement. Press coverage has been extensive and enthusiastic, with the Associated Press picking up the story and distributing it nationally to many news outlets:
Mothers' Milk Bank Northeast is thrilled to partner with this collaborative community resource, which is providing a new model of breastfeeding support and access to donor milk for Vermont families.