Our dedicated milk donors have stepped up to the plate during the COVID-19 crisis: Mothers' Milk Bank Northeast has plenty of donor milk for families and hospitals.
News coverage on Mother's Day
WBZ News Radio reporter Susanne Sausville contacted us on Mother's Day to find out how the pandemic had affected our milk bank. In the interview, Director of Community Relations Ann Marie Lindquist told the reporter that at first we were concerned about the potential effects, "if mothers would be able to continue to send us milk, if they'd be able to get the blood test they need to get. And it's turned out that things have worked out very well and there has been an outpouring of support from moms."
Sausville called this increase in donations "a special gift on any Mother's Day"—the gift of moms helping other moms.
Director of Donor Intake Morgan Kennedy Henderson says that what is unusual right now is not just the record number of calls, but the fact that the donors are unusually well-prepared and motivated to finish the process. Morgan commented:
"Our donors are truly special, giving people under normal circumstances.  Perhaps it helps combat the stress of living in these times to make a lifesaving gift to a fragile baby, but we've been thrilled by the response.  We're grateful that donors are so supportive as we have learned to work remotely along with much of the rest of the country."
Doctors' offices, too, have turned around health forms rapidly to ensure that mothers can finish the screening and send in their milk as soon as possible.
Generous moms donate plenty of donor milk
Stephanie Takenaka is one of the moms inspired to donate by the COVID-19 crisis. As she recounts in her story on our blog, "I had read on Facebook that a mom was having difficulty finding formula for her baby because people were unfortunately buying it out as a milk substitute. She mentioned that her neighbor donated milk and was nice enough to provide her with extra breast milk until she could find a substitute. I thought about how I would love to help other babies in need like that."
Milk donor Samantha shared on Facebook that she had reached a milestone—over 2,000 ounces donated. Every ounce from every donor is precious. A single ounce provides up to three meals for a premature baby.
Milk donor Becca from Vermont shared the photos at the top of this post of her baby clapping to celebrate their 20th box of milk, and his older sister helping pack the milk for shipping, excited for the arrival of "the truck that brings the breastmilk." After 20 boxes, she knew the FedEx delivery truck well!
Milk lab busy processing and filling freezers
Our expert lab technicians are now working seven days a week to process milk. The biggest change for the lab during the pandemic has been working in restricted teams of two people per shift, with strict social distancing protocols and limited staff throughout the rest of the milk bank. Being regulated as a food manufacturing facility by the Food and Drug Administration (FDA), the lab has always followed rigorous safety protocols in processing milk.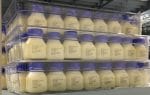 Thanks to our donors and lab, our freezers are full! We are supplying milk to neonatal intensive care units, special care nurseries, mother-baby units, dispensaries, and outpatient families.
Outpatients and hospitals can order donor milk
Many hospitals are discharging mothers and babies earlier than usual after birth, which means that mothers need even more lactation care—including donor milk—when they are home. If you are at home and need donor milk, read about how to order milk on our website and ask your healthcare provider for a prescription. Most days we can ship milk overnight, or in certain areas send it by courier same day. Check our dispensaries page to find out which sites in the community can currently dispense milk.
Outpatient families with financial and medical need may be eligible for milk through our Special Assistance Program. Families receiving public assistance may qualify to receive bridge milk for up to 10 days. Outpatient babies with extended medical need may qualify for up to a month's worth of milk.
New milk donors always welcome
Even though we have plenty of donor milk now, we always need new milk donors to keep the flow of milk coming when other donors retire. Blood donors can give throughout their adult lives, but milk donors can only give during the brief and special window of lactation. We thank all of you for your extra generosity during this health crisis.
 Screening to become a breast milk donor is an easy four-step process. Once accepted for donation, milk can be shipped for free door-to-door or through one of our donor milk depots throughout the Northeast.