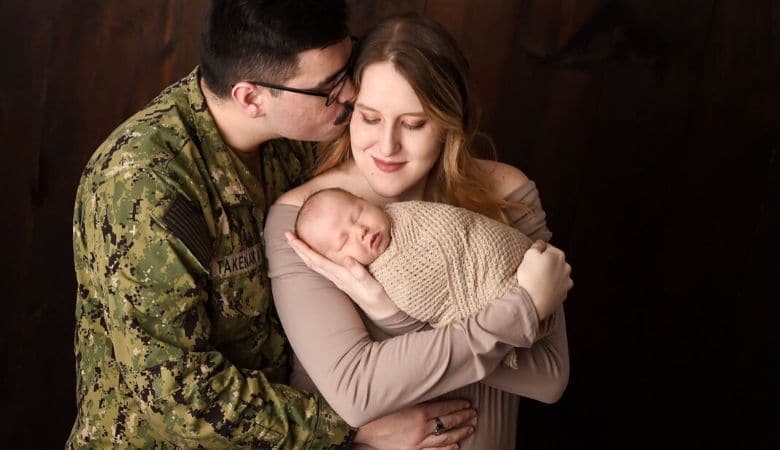 Adorable baby photos always make us smile at the milk bank, and never more so than during the COVID-19 outbreak. Stephanie sent a sweet photo of baby Koa with his best friend, Scout the dog. Our social media fans on Facebook and Instagram loved the adorable photo (especially Koa's baby belly), so we asked Stephanie to tell us more of her story. Here's what she shared (after telling us that belly had her three-month baby wearing nine-month clothes!).
My husband Mitchell and I recently moved to Kittery, Maine from Pearl Harbor, Hawai'i. We love hiking, scuba diving, and our two dogs. Mitchell is a submariner in the US Navy, and I am a therapist working in the field of occupational therapy.

We were ecstatic when we found out we were pregnant with our first child. I feel so grateful that I had a healthy pregnancy and delivery at Wentworth-Douglass Hospital in Dover, NH. I gave birth to our beautiful baby boy Koa on New Year's Day of this year.

Breastfeeding has its ups and downs, but we take it one day at a time, and generally it has been a blessing to be able to produce a surplus of milk to donate. We love being a part of the Mothers' Milk Bank Northeast community, and have only had supportive and friendly experiences with both the staff and other donors.
We asked Stephanie how she found out about milk banking, and why she decided to donate milk.
Oddly enough, the effects of the COVID-19 outbreak inspired me to donate. I had read on Facebook that a mom was having difficulty finding formula for her baby because people were unfortunately buying it out as a milk substitute. She mentioned that her neighbor donated milk and was nice enough to provide her with extra breast milk until she could find a substitute. I thought about how I would love to help other babies in need like that.
We are grateful to Stephanie and to all the moms who share their milk to help other families in need, and share their stories so others can learn about milk donation.
Photo credit, family photo at top: Sarah at Mercy Street Studios