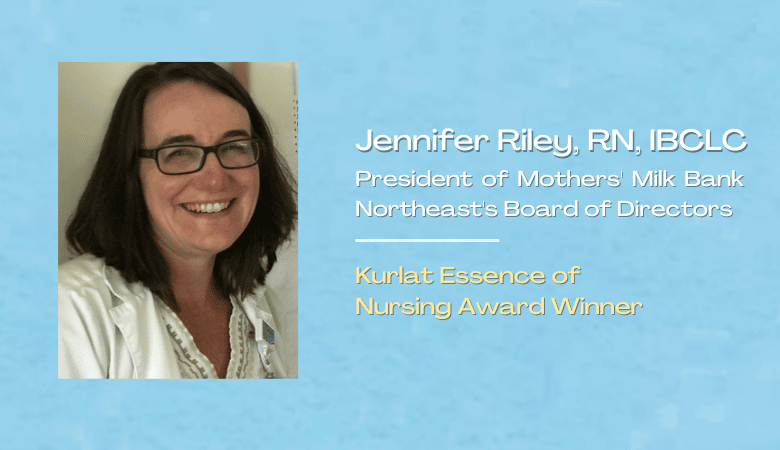 Brigham and Women's Hospital recently honored Jennifer Riley, MSN, RN, IBCLC, and President of Mothers' Milk Bank Northeast's Board of Directors with the Kurlat Essence of Nursing Award. Awarded annually, it is the highest honor for clinical nurses at the Brigham. As a lactation consultant at the facility, Riley was thrilled to receive the award.
"I was so touched and truly stunned when I learned that I had won the Essence of Nursing Award. Having met so many amazing nurses throughout the hospital and witnessed their amazing work while writing Magnet examples for our redesignation, I am humbled to be chosen for this recognition."

Jennifer Riley, RN, IBCLC, President, lactation consultant, Brigham and Women's Hospital
Riley's contributions to Brigham and Women's Hospital are expansive. Her work includes developing quality improvement projects, volunteer opportunities, and innovative efforts to enhance lactation support services. She is also an outstanding advocate for mothers, babies, and families, inspired by each patient she meets.
Brigham colleague Rosemary McKitrick, BA, RN, Med, IBCLC, HNBC, noted Riley's "tireless" efforts to expand the use of donor milk in the hospital. Likewise, she is an instrumental part of our mission to support fragile infants with pasteurized donor human milk. As a key supporter and decisionmaker on our Board of Directors, we are grateful for her many contributions to the growth of our organization.

For more on her work and achievement:
Riley Honored With Kurlat Essence of Nursing Award via Brigham Heart & Science