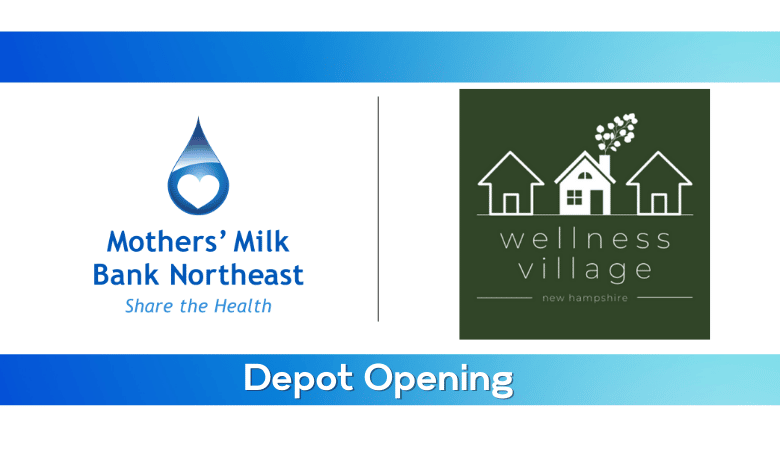 Mothers' Milk Bank Northeast and Wellness Village announce grand opening of donor milk depot
Manchester, NH — Mothers' Milk Bank Northeast announces the opening of a donor milk depot at Wellness Village NH, located at 660 Mast Road in Manchester, New Hampshire. The grand opening will take place on June 18 at 10 am at this new site. Wellness Village NH is a collaborative providing services, resources, and community connection. Their cultivated team of practitioners serves wellbeing through massage, reiki, chiropractic care, nutrition support, workshops and so much more.
A milk bank collects milk from mothers who have more supply than their babies need. They screen donors, then pasteurize, test, and dispense milk primarily to premature and medically fragile babies in need. A community milk depot is a drop-off site where local moms can bring their milk, after having been screened. The milk is then sent to Mothers' Milk Bank Northeast. Wellness Village NH will serve as the northeastern milk bank's fifth depot in New Hampshire and the only one in the Greater Manchester area.
"We are delighted to be partnering with the dedicated team at Wellness Village NH, working together to ensure that babies get the best start in life and stewarding responsible, compassionate connections between generous moms and families in need," said Deborah Youngblood, Executive Director of Mothers' Milk Bank Northeast.
Milk donor screening, modeled after blood donor screening, includes health history, physician approval, and a blood test. These are some of the many measures taken to assure the safety of milk for the vulnerable babies served by Mothers' Milk Bank Northeast.

"At Wellness Village NH our practitioners are dedicated to promoting authentic wellness through a wide range of services including doula services, birth education, and support groups. We are so pleased to now play a critical role in connecting families to the nutrition their baby needs," explained Nancy Doherty, co-founder at Wellness Village NH.
Donor milk is rapidly becoming the standard supplement to mothers' milk for preterm infants in
neonatal intensive care units (NICUs). This has led to greater demand for safe, pasteurized donor human milk from nonprofit milk banks like Mothers' Milk Bank Northeast, which are certified by the Human Milk Banking Association of North America (HMBANA). Mothers' Milk Bank Northeast has been screening donors, as well as pasteurizing and dispensing milk to over 100 hospitals and to families throughout the northeastern United States since 2011.
Those who wish to donate their breast milk can review guidelines on the Milk Bank website, www.milkbankne.org/donate, then contact a Donor Intake Coordinator for screening at 617-527-6263 x3 or donate@milkbankne.org. Approved donors can then drop off milk at the new depot at Wellness Village NH by calling 603-935-9556.
Mothers' Milk Bank Northeast is a nonprofit community milk bank. Our mission is to provide safe pasteurized donor human milk to babies in fragile health throughout the northeastern United States.