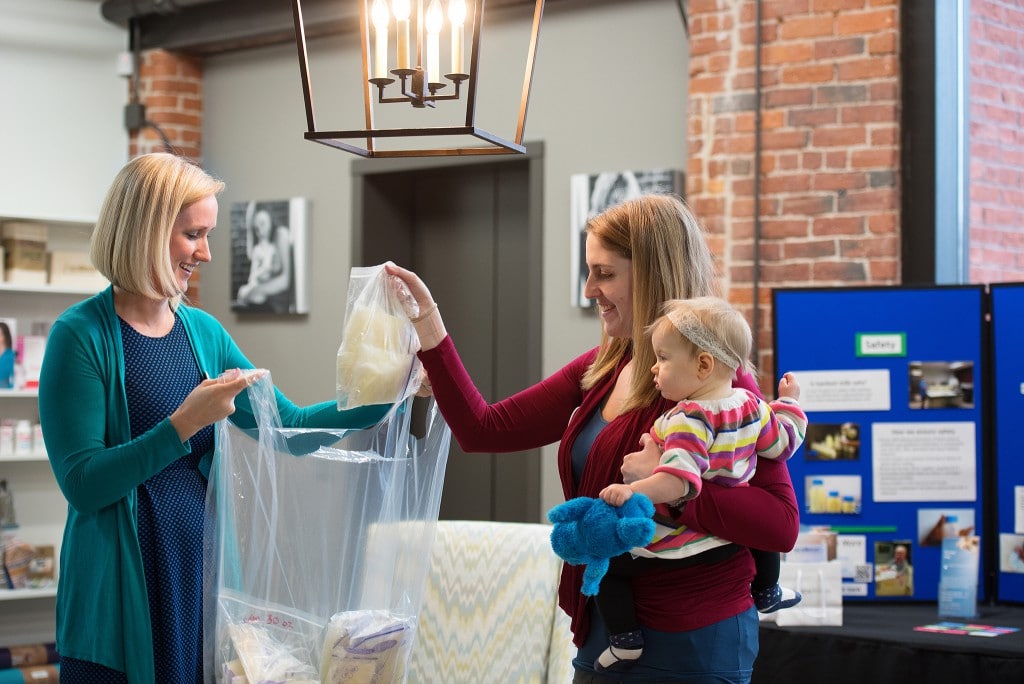 There are three easy ways for donors to get their milk to the milk bank—ship directly door-to-door at the milk bank's expense, drop off at the milk bank, or drop off at another milk depot.  
A milk depot is a community location that accepts milk from screened donors, stores it in a freezer, and ships it to the milk bank for processing. Depots are in locations that breastfeeding mothers visit, such as medical offices, parenting stores, wellness facilities, and day care centers. Depots play an important role in raising community awareness of milk donation.
Are you interested in opening a depot? You will need a freezer in a secure location and an employee or volunteer to oversee drop-off and shipping. For more information, please contact Ann Marie Lindquist, Director of Community Relations.  
Remember, you must be approved as a donor in order to drop off milk.  Check our guidelines on donation to get started.  
We currently have depots in six states, as listed below.
DEPOT LOCATIONS
Massachusetts
Mothers' Milk Bank Northeast
377 Elliot Street
Newton Upper Falls, MA 02464
Drop-offs accepted most weekdays 10 am to 4 pm.
To schedule, call 617-527-6263 x3.
Acelleron Maternal Health & Wellness
16 High Street, Suite 201
North Andover, MA 01845
To schedule drop-off, call 978-738-9800.
Emerson Hospital
Clough Birthing Center
133 Old Road to Nine Acre Corner
Concord, MA
To schedule drop-off, call the Lactation Office, 978-287-3317.
South Shore Hospital
55 Fogg Road
South Weymouth, MA
To schedule drop-off, call Cindy Hoar or Ellen Fitzgerald (NICU Lactation Consultants), 781-624-4227.
Northampton Area Pediatrics
193 Locust Street
Northampton, MA 01060
To schedule drop-off, call 413-274-8465.
Connecticut
Acelleron Medical Products
2488 Boston Post Road, Suite 20A
Guilford, CT 06437
To schedule drop-off, email or call Jan Ferraro, jferraro@acelleron.com, 203-804-5974.
Connecticut Childbirth & Women's Center
94 Locust Avenue
Danbury CT 06810
To schedule drop-off, call 203-748-6000.
Maine
Maine Medical Center
Family Birth Center, East Tower
22 Bramhall Street
Portland, ME 04102
To schedule drop-off, call 207-662-6795 or email mfrederick@mmc.org.
Tree of Life Naturopathic & Midwifery Care
106 Lafayette Street, Suite 3A
Yarmouth, ME 04096
To schedule drop-off, call or email Tiffany, 207-846-4900, info@treeoflifecare.com.
New Hampshire
Cheshire Medical Center
Women and Children's Health Unit (WACHU)
580 Court Street
Keene, NH
To schedule drop-off, call the Lactation Resource Center, 603-354-5480.
Nini Bambini
18 Constitution Drive, Unit 9
Bedford, NH 03110
To schedule drop-off, call 603-666-6464.
New York
Brooklyn Birthing Center
2183 Ocean Avenue
Brooklyn, NY 11229
To schedule drop-off, email Rachel Anne Libon, rachelanne@brooklynbirthingcenter.com.
Myrtle Street Obstetrics and Gynecology
2105 Ellsworth Blvd
Malta, NY 12020
To schedule drop-off, call Renae Cuozzo, 518-587-2400.
Pennsylvania
Acelleron Medical Products
3331 Street Road, Suite 440
Bensalem, PA
To schedule drop-off, call or email Kristen Quinn, 267-972-8008, kquinn@acelleron.com.
Rhode Island
Healthy Babies, Happy Moms
4512 Post Road
East Greenwich, RI 02818
To schedule drop-off, call 401-884-8273.