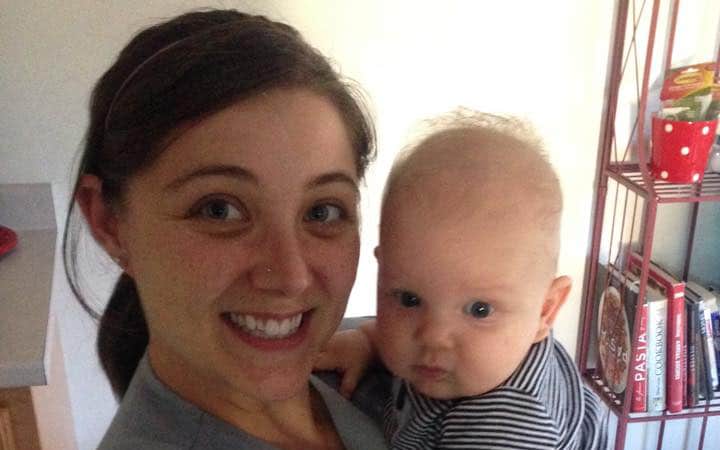 Smyrna, GA; August 3, 2015. In celebration of World Breastfeeding Week, recent Smyrna transplant Nichole Seliquini was honored by Mothers' Milk Bank Northeast for donating her breastmilk to fragile babies in need while being employed as a floor nurse at Brigham and Women's Hospital in Boston. World Breastfeeding Week's theme this year is to raise awareness of working mothers who are breastfeeding. For sharing her story about donating while employed, Nichole was entered into a drawing and won a t-shirt from Mothers' Milk Bank Northeast.
Here is Nichole's story in her own words:
As a nurse, I was blessed to have a lactation room to pump in and very supportive employers to allow pumping breaks to provide milk to babies in need! My donation story: Donating breastmilk while breastfeeding and working as a floor nurse was a challenging yet empowering experience. It was important to me to provide for my baby as well as other babies in need. The first time I left my baby and had to pump was in my car in a parking lot; the things you will do for your baby! When I got back to work, my employer had just opened the lactation room on our floor. It was nothing fancy: a table, a chair, a few blankets, a sink, some sanitizing wipes, and a fridge. I cannot imagine going to work without this room.
After hearing other people's stories, I realize that I am fortunate to have a safe and comforting place to pump. The hospital I work for even provided a pump. My coworkers were comfortable with me
taking short breaks to go pump. I would not have been able to successfully donate milk while working without them! While at home, I had the support of my husband, who helped me by assisting in storing and organizing my supply. Ultimately, when I finally built up enough supply to donate to the milk bank, I was overwhelmed by the feeling of love, joy, and life that entered my heart. I am so thankful that other babies can benefit from all the mothers out there that are willing
make such a huge donation.
Mothers' Milk Bank Northeast provides donor milk as standard of care in hospitals throughout the eastern United States, including Gwinnett Medical Center in Lawrenceville and MCG Health in Augusta.
Screening to become a breast milk donor is done through an easy four-step process. Once accepted for donation, milk can be shipped door-to-door or through one of our donor milk depots throughout the Northeast.