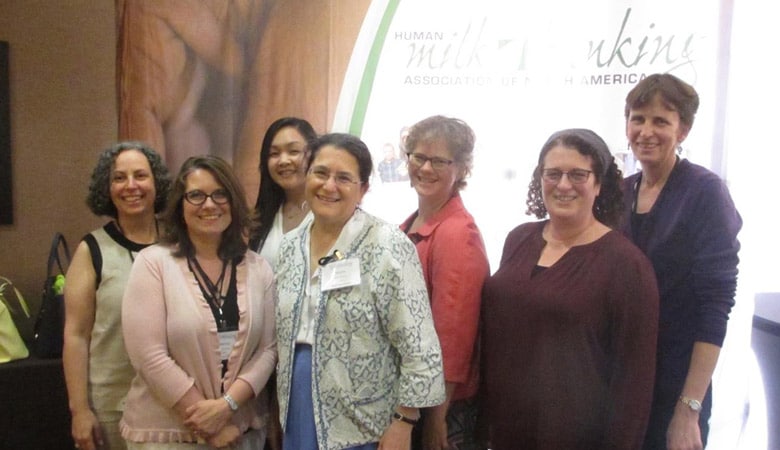 Mothers' Milk Bank Northeast Attended First Ever Nonprofit Human Milk Banking Symposium
May 8, 2017, Arlington, TX – This past weekend, over 120 milk banking executive directors, practitioners, and developing milk banks attended the first annual nonprofit milk banking staff symposium to discuss how human milk saves the lives of premature babies.
The Human Milk Banking Association of North America (HMBANA) promotes equal access for all infants in need of ethically sourced, pasteurized donor human milk, and promotes breastfeeding. As a HMBANA-certified milk bank, Mothers' Milk Bank Northeast (MMBNE) brought seven staff members to the conference, three of whom served as conference speakers.
"Our gathering to share best practices, define our goals, and promote the latest human milk research as it applies to milk banking was driven by our mission to meet the growing demand for donor milk," said HMBANA Board President and MMBNE Executive Director Naomi Bar-Yam.
Participants came from across the United States and as far as Vancouver to discuss donor milk's rising use. Some key points highlighted during the symposium were:
Between 2000 to 2016, HMBANA milk banks distributed over 30 million ounces of pasteurized donor human milk with no record of illnesses or death.
The use of nonprofit donor milk has more than doubled in the past five years alone, with 5.25 million ounces distributed in 2016.
The number of HMBANA milk banks has more than tripled in the last decade, creating a robust, safe, and reliable supply of donor milk that was able to meet continued growing demand in 2016.
The American Academy of Pediatrics' (AAP) recent endorsement of the value of HMBANA donor milk is expected to promote continued growth in 2017, which the expanding network of HMBANA milk banks is poised to meet.
"We were excited to participate in conversations about our broader mission and vision, while sharing the latest research and techniques in a host of areas, such as milk bank leadership, donor screening, and outreach," said Bar-Yam. "Opportunities to meet across our movement help our team continue to improve on our daily operations with renewed inspiration."
Sybil Sanchez on left, Morgan Henderson on right.