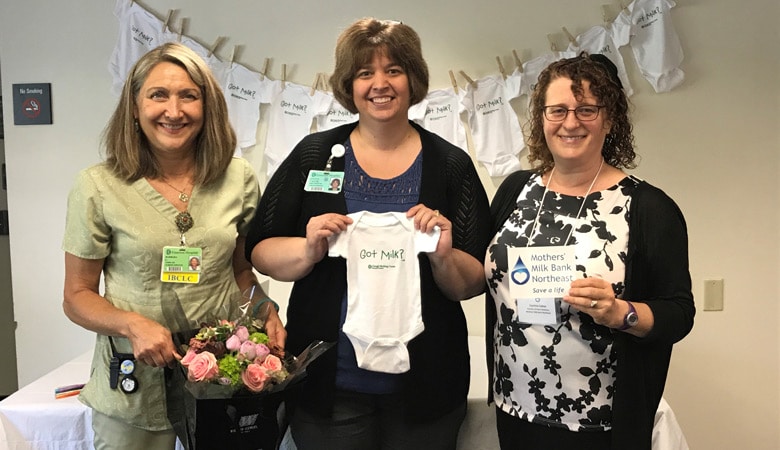 By Sybil Sanchez
We are delighted that Emerson Hospital in Concord, Massachusetts, now not only provides pasteurized donor human milk to their patients but also serves as a breast milk depot collection site.
Several donor mothers, lactation consultants, nurses, physicians, and hospital administrators were among the forty-plus people who attended the depot opening on Thursday, August 3rd, timed in celebration with World Breastfeeding Week.
"Two years ago, we partnered with Mothers' Milk Bank Northeast to offer pre-screened donated human milk to newborns who need it. We are very pleased to extend our partnership with the milk bank and become a milk depot to make it easier for donors to help babies who need breast milk to thrive," said Joanna Vallie, Director of Maternity at Emerson Hospital.
Since many mothers have the experience of first receiving donor milk and then donating it, the process brings Emerson full circle.
"Donor mothers find the experience of donating their breast milk very meaningful. The new depot at Emerson Hospital makes it more convenient for them to donate their milk and provides an opportunity to share information about this unique, lifesaving gift," said Naomi Bar-Yam, executive director of Mothers' Milk Bank Northeast.
Coverage of the event included an Emerson Hospital press release, articles in Boston Magazine, the Boston Globe and the Concord Journal, and an interview on WBUR, Boston's NPR radio station, during the morning news. Attendees signed a special "Got Milk?" onesie celebrating the event that will be framed and hung at Emerson Hospital's Clough Birthing Center. Mothers' Milk Bank Northeast brought back its own, special copy signed by hospital staff in friendship.
"The hospital staff we serve on a daily basis keep us inspired," said Cynthia Cohen, director of client relations for the milk bank. "This event illustrated Emerson's warmth and strength of community. Milk banking and saving the lives of our tiniest patients bring out the best in us."
Screening to become a breast milk donor is done through an easy four-step process. Once accepted for donation, milk can be shipped door-to-door or through one of our donor milk depots throughout the Northeast.