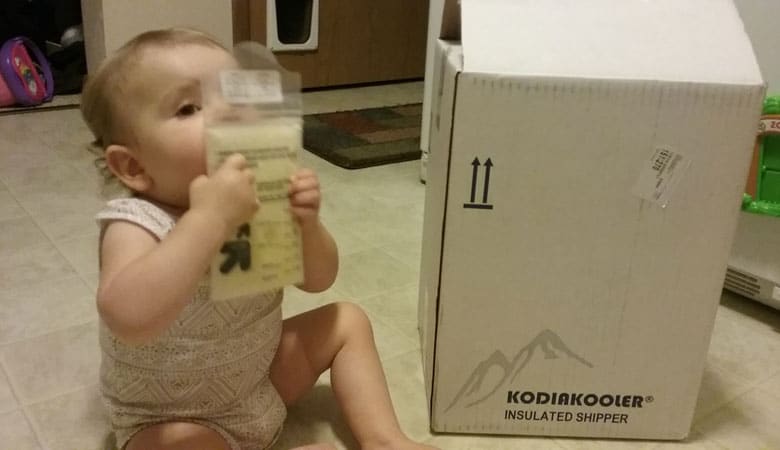 Kristin tells her story of receiving and donating breast milk, thanks to a partnership between the hospital where baby Ella was born and Mothers' Milk Bank Northeast.
My daughter came into this world in a fast and furious manner. My water broke at 36 weeks and 5 days, and my labor progressed quite quickly. Living in rural New Hampshire, we had a 45-minute drive to Lakes Region General Hospital in Laconia. An ambulance actually picked me up 10 minutes away from the hospital to keep me from delivering on the side of the road. Our daughter Ella was born a mere 15 minutes after we arrived at the hospital!
Battling hypoglycemia
Despite not fitting the typical profile for gestational diabetes, I had managed the condition for my entire pregnancy. The combination of the early delivery and my having gestational diabetes left my daughter struggling to regulate her own blood sugar soon after she was born, and she quickly became hypoglycemic. The doctors had to use a sugar water IV drip to keep her sugar levels from completely tanking. The good news was that the drip kept her levels up. The bad news was that whenever they took a break from the drip, her sugar levels would quickly tank again. Though she took to nursing, the first colostrum from me wasn't enough to stabilize her sugars. I immediately started pumping (in addition to putting her to the breast) to make sure she was getting everything from me that she could, but that process also took some time to get going and she needed more help.
Donor milk stabilizes blood sugars
Thankfully, my hospital had started working with Mothers' Milk Bank Northeast and offering donor milk about 6 months prior to my delivery. With the blessing of the hospital pediatrician treating Ella, the lactation consultant asked me if I would like to offer Ella some donor milk to see if that would better stabilize her sugar level. With little hesitation, I said yes; I felt so much better about her receiving some donated human breast milk rather than formula on that first, fragile day before I was able to adequately provide for her myself. Sure enough, the donated milk did the trick. Her sugar levels finally stabilized after a nice hefty serving of donor milk, and through some more nursing and pumping, I put myself in position to take the baton and offer her what she needed. I was very grateful to have the option to offer her that small bit of donated milk; it truly brought her out of the woods of hypoglycemia, much to our relief.
A freezer stash of pumped milk
Fast-forward 9 months:  I had been back to work full-time since Ella was 3 months. Regular pumping at work and before I went to bed at night allowed me to build a stash of milk that started taking over my freezer. The stash grew and grew, and though my daughter had a healthy appetite, I continued to get ahead of her demand. I realized that Ella just wouldn't be able to consume everything I had for her before it would go bad. I remembered being really impressed when a colleague of mine had talked about being able to donate some of her breast milk. When I inquired where she donated and discovered she had indeed donated to Mothers' Milk Bank Northeast, I knew that was exactly what I wanted and needed to do, too. It would be my proud way of giving back and paying it forward, most especially for the help that Ella received on her first fragile day.
When Ella was 10 months, we were able to donate 165 ounces. When she turned 15 months, we were able to donate another 150 ounces. We are now in the twilight hours of our breastfeeding journey; we nurse a little in the morning and at night and my freezer stash is now gone. Our milk donation days are long behind us, but I will always be so incredibly proud of our ability to "share the health" with other babies in need.
Donating milk is easy
Working with Mothers' Milk Bank Northeast was wonderful from beginning to end. The staff is incredibly caring, knowledgeable, and helpful; the process was sound, seamless, and quite easy; and it was a great experience. I wish we didn't live quite so far away; I would love to visit the milk bank in person and see the process in action!
Sharing the health
Breastfeeding (and pumping, especially) is a huge commitment, but it is labor of love and a true commitment to health. I am so glad I was able to share the same gift of love and health with others that we ourselves received on Ella's first day. Thank you for your mission and for all you do to facilitate such beautiful gifts of health and kindness.
— By Kristin Johnson