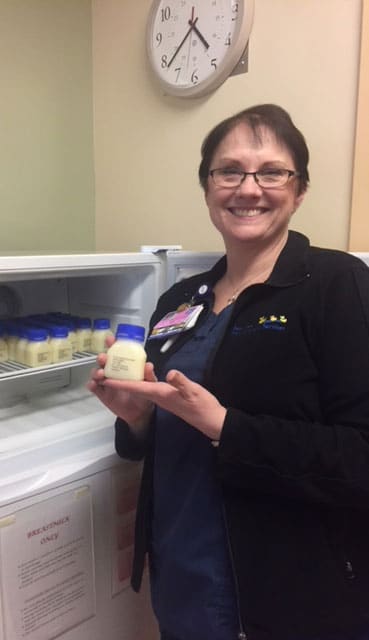 Portsmouth Regional Hospital began offering pasteurized donor human milk in 2015—initially because a parent requested it—and soon thereafter noted a remarkable effect: exclusive breast milk feeding rates skyrocketed, from 50% to 93.6%.
Their story demonstrates how donor human milk can serve as a bridge to successful breastfeeding initiation while helping hospitals meet their desired exclusive breast milk feeding goals as reported to the Joint Commission, their state, or elsewhere.
Mothers' Milk Bank Northeast Marketing and Communications Coordinator Sybil Sanchez caught up with Nora Fortin, Portsmouth Regional Service Line Leader and Director of the Maternal, Child, and Women's Health Unit to learn more about their pasteurized human donor milk program.
Donor Milk Program: From Parent Request to Hospital Policy
Portsmouth Regional Hospital started their donor milk program in 2015, and they provide donor milk in both well-baby and special care units. Nora initiated the program in response to a mother who was unable to breastfeed but wanted to exclusively breast milk feed her baby. Informal sharing is against the hospital's policy so they needed another option.
Nora already knew about donor milk from a similar situation she encountered while working at another New Hampshire hospital, so she reached out to Mothers' Milk Bank Northeast. In establishing a pasteurized donor human milk program (PDHM), Nora also developed hospital policies to streamline  the process for future occasions.
Donor Milk: "It's the right thing to do"
Nora: We got milk within a day and a half for that particular mother in need, and from there, it didn't take very long to get the program fully up and going. There was wonderful support from our administration and Vice President of Quality. I told them, "these are our patients, it's our job to feed them, and this is what our babies need." They understood my reasoning, and from a quality perspective, they were very comfortable with Mothers' Milk Bank Northeast.
We really love it. We're passionate about providing our families what they need and we provide donor milk because it's the right thing to do. That's the beauty of Portsmouth Regional Hospital. If you're doing the right thing for patients, you will be supported.
To kick-start our program, we met with all of our stakeholders, including administration, the quality assurance team, clinical staff and providers, and reviewed the benefits of PDHM as an adjunctive feeding therapy. We responded to their questions and concerns. It wasn't a slow process but rather, it developed at its own, organic pace. As providers and staff became more comfortable, they more readily educated patients of the risks of formula and benefits of human milk as medicine.
We also have a wonderful lactation department. When we started our program, we had a lactation consultant who was very aware of donor milk and had already used it in places like Brigham and Women's Hospital and Boston Medical Center. This helped everyone, patients included, feel more comfortable with our PDHM program.
Exclusive Breast Milk Feeding Rates
The milk bank often focuses on the impact of donor milk as a bridge to breastfeeding and its strategic use in terms of promoting exclusive breast milk feeding, which is considered the highest standard of care by many, including the American Academy of Pediatrics.
The Joint Commission, an independent, not-for-profit organization, certifies nearly 21,000 health care organizations and programs in the United States, including most of the hospitals the milk bank serves. Joint Commission accreditation is nationally recognized as a symbol of quality and high performance standards. As they report on breastfeeding rates and other maternal child health standards, hospitals also report on exclusive breast milk feeding rates.
When the Joint Commission implemented new reporting measures for breastfeeding, Portsmouth's rate went from the mid-80th percentile to somewhere around 50%. However, once they introduced donor milk, they were excited to find their exclusive breast milk feeding rates jump back up, exceeding their originally high rate and going all the way to 93.6%.
Nora: It helps especially with mothers in need of medical supplementation. Some of the primary reasons for medical supplementation include newborn weight loss greater than 10%, blood sugar instability, and either delayed lactogenesis (milk coming in) or volume issues as caused typically by postpartum hemorrhaging.
The Joint Commission randomly samples hospital delivery data to determine rates of exclusive breast milk and formula feeding. As long as a baby has not received any formula, they meet the exclusive breast milk measure. So if a baby is supplemented, either by parental choice or out of medical necessity, it's preferable that we use mother's own milk or donor milk rather than formula.
Success Stories
Nora: At this rate, mothers are coming in already aware of our donor milk program and they know to ask for it, if they need it. And, now we're also looking into becoming a donor depot. One step has built upon the other.
We've had some wonderful patients that have been able to provide human milk to their babies through the program, for example adoptive parents who wanted human milk over formula.
We had a mother whose baby transferred down to our special care from a higher level of care [at another hospital]. In that other NICU, they had to buy it outpatient and bring it in, because the hospital wouldn't provide it. When they transferred down to us, they were relieved that they no longer had to buy it. They took their cooler with all the milk they had already purchased and happily brought it home and saved it for outpatient use. That was one case where we felt especially grateful to help.
About Portsmouth Regional Hospital
Portsmouth Regional Hospital is one of two for-profit hospitals in New Hampshire, both of which belong to the Hospital Corporation of America (HCA). HCA is a network of 172 hospitals nationwide, plus some in the UK. As part of Portsmouth Regional Hospital, the Seacoast Family Care Services, which Nora runs, includes labor, delivery, and postpartum units, beds for pediatric and women's health, and a special care nursery.
Nora: We are small but our network sets the standards for the births of millions of babies. Because of the number of hospitals within HCA, we are very quality driven with high measures in obstetrics. We have access to large data sets that are collected across the network in order to define best practices. Other hospitals in our network definitely use donor milk just as we do, and of course New England in general is medically innovative. As we bring new practices like donor milk on board and our sister hospitals do the same, we share information, grow organically, and continuously improve upon our services.
Congratulations to Nora and to Portsmouth Regional Hospital for their commitment to the highest standards of care for birthing and breastfeeding families. Through the use of donor milk together with a strong focus on lactation services, the hospital has blazed a trail for other hospitals looking to increase exclusive breast milk feeding rates, while responding to the needs of the families in their community.
If your hospital is interested in starting a donor milk program, we encourage you to check out our booklet, establishing a pasteurized donor human milk program (PDHM).