Breast-feeding and Black Moms . . .
"I recently marked 19 months of breast-feeding my son, and I feel an overwhelming sense of joy: I am breaking a generational cycle. And a cultural one, too."
Local to Boston? Follow us on Instagram? Then you may have read (or heard us raving about) Ashley Mitchell's recent article Breast-feeding and Black Moms – why I'm breaking a generational cycle in Globe Magazine.
Timely, thought provoking and currently pinned to our team notice board, this powerful piece is worth reading – and then reading again.
A well known and respected Black activist, Ashley's article highlights and examines the racial disparities in breastfeeding while shedding light on her experience.
Disparities in Breast-feeding . . .
"The science pertaining to the health benefits of breast milk is undeniable, yet for at least 40 years Black women have breast-fed less than all other racial groups.
According to federal data, Black women intend to breast-feed just as much as white women (87.2 percent versus 86.9 percent, respectively), yet have a lower rate of initiation (69.4 percent versus 85.9 percent for white women) and a shorter rate of duration (in 2019, only 17.2 percent of Black babies were exclusively breast-fed at 6 months versus a 25.6 percent national average).
Black infants experience higher rates of infant mortality, as well as ear infections, diabetes, low birth weights, and other health problems. Breast-feeding for at least six months has been shown to mitigate certain infant illnesses as well as protect the mother."
What's Needed To Help Black Moms Who Want To Nurse Succeed At It . . .
For more on the complex and multi faceted reasons for these disparities, you'll have to read Ashley's article. That said, it's worth noting that Ashley really underscores the importance of acknowledging both our unique and shared experiences. "The motherhood space is rife with inequity. We're all running the same race, but we've begun at different starting lines."
Leaving us with some practical advice for helping moms (particularly Black moms) who want to breastfeed, Ashley urges us to "educate ourselves and others . . . We need to normalize breast-feeding at a young age, not wait until reproductive age. We also need to create space for Black researchers, scientists, doulas, lactation consultants, and birth workers, and pressure our policy makers to help more people become cycle breakers, too."
* * *
We recently had the opportunity to sit with Ashley so before you rush off to read that article:
What Does Writing This Piece Mean To You?
As a Black mom in America, it was incredible to share my experience and perspective. It's an honor to highlight the efforts of scientists and historians who are working hard to shed light on the historical context of breast-feeding, the current challenges, and how to help.
It can be incredibly frustrating to be a brown person in this country. There are many who actively seek to oppress us – either through actively violating our rights and freedoms or by claiming "not to see color." Having my voice cut through the noise (if only for a second) to say, "Hi, I'm here. I'm a Black woman having a unique experience, but I'm also a human having a human experience," is amazing. We can celebrate both of those truths.
What Kind Of Response Have You Received So Far?
Overwhelmingly positive! But I will admit, I don't read the comments. I know there are those who will disagree with me, but I don't want to actively engage with negativity.
Of course, most people know me as a mom, fitness instructor, or activist. They're totally unaware of the fact that writing is a huge part of my life and always has been. So, in that sense it was fun to surprise my community. I call myself "multi-passionate" for a reason!
Are There Any Tips, Groups Or Resources You've Found Particularly Helpful?
My Instagram community is one of the first to spring to mind – it's incredibly important to me. We share lots of resources and stories which is always helpful, but being pregnant and giving birth in the midst of COVID? That support was just invaluable.
Some of my favorite accounts to follow include: @getboober, @milkymamallc @chamberofmothers, @myconnectedmotherhood, @solidstarts and @blkbfingweek
I could mention many others but I don't want to overwhelm anyone. That said, I'd advise anyone to spend time searching for helpful resources. Most importantly, try to seek out people and accounts who differ from you. After all, we learn, we grow.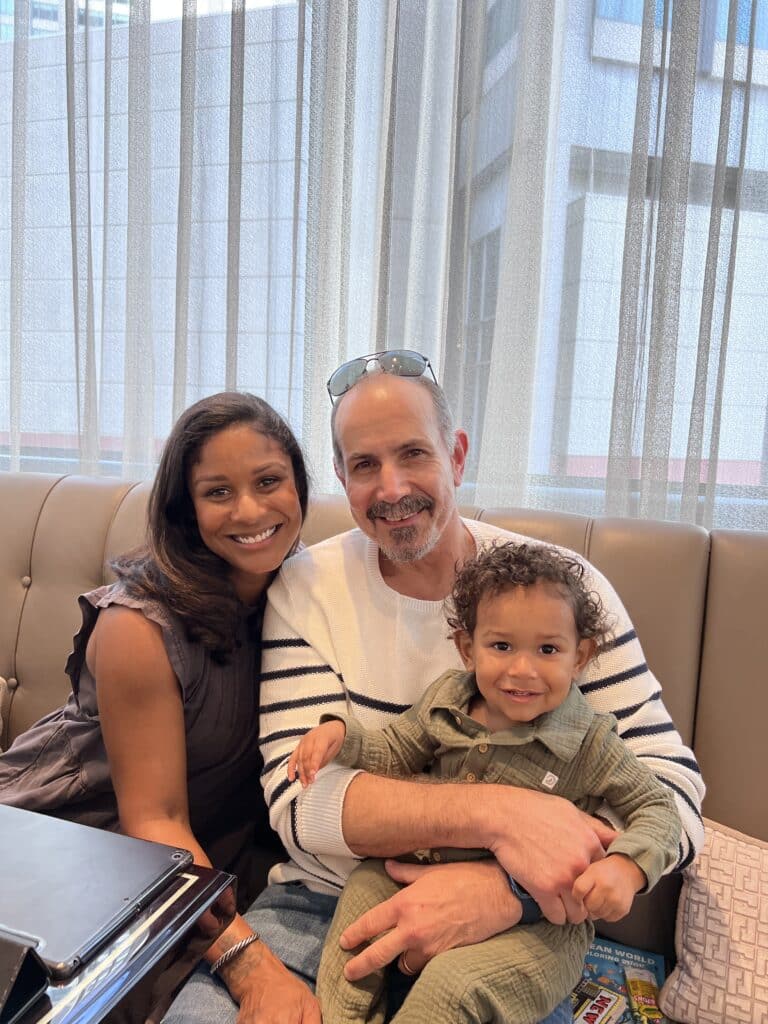 Want more personal stories and perspectives? Visit our blog – we're especially proud of this post and think you might be too. And for more from Ashley? Hop on over to her Insta!