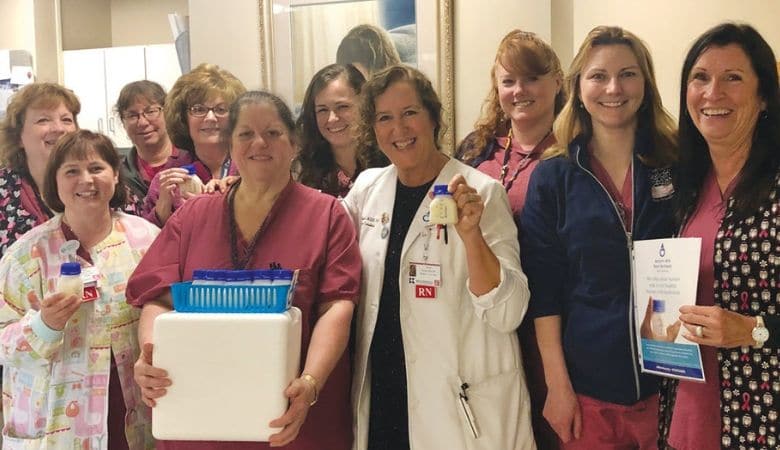 Congratulations to Kent Hospital on launching the first Rhode Island donor milk program! On May 6, this Warwick hospital began offering pasteurized donor human milk in its special care nursery and postpartum unit.
A news article on the hospital's website quotes Kristine Rimbos, MS, RNC-OB, interim director at Kent's Women's Care Center, "We are thrilled to offer donor milk as a safe, evidence-based alternative that supports our breastfeeding families. The nursing and medical team at Kent is committed to supporting feeding choices and ensuring high quality outcomes. This program is a win-win for our community and the patients that we serve."
Milk bank staff worked closely with Ms. Rimbos and with lactation consultant Susan Bryant, MSN, RN, IBCLC, who commented, "Kent Hospital's commitment to a pasteurized donor human milk program, as a bridge to exclusive breastfeeding, will help our postpartum mothers achieve their breastfeeding goals, and ensure that our babies get off to their best start . . . Our families have been extremely thankful for this option, which allows them to provide their infant with an exclusive breast milk diet, when supplementation is necessary."
Donor Milk Supports Breastfeeding
Donor milk can be lifesaving for fragile premature babies whose mothers do not have enough milk to feed them. That is why most hospitals with level 3 and level 4 neonatal intensive care units now offer donor milk. An increasing number of hospitals with level 1 (postpartum) and level 2 (special care) units now offer donor milk as well. Research shows that when supplementation is warranted, mothers who use donor milk tend to view it as a temporary bridge, rather than a permanent solution, as in the case of formula. In other words, donor milk supports breastfeeding in the long run. That is why it makes sense to offer donor milk at hospitals like Kent, which has demonstrated the highest level of breastfeeding support by earning a Baby-Friendly designation.
The Warwick Beacon also covered the launch of this new donor milk program in its article, "Pasteurized human milk program offered by Kent's Women's Care Center."
Congratulations to Kent Hospital for leading the way in Rhode Island!
Starting a Donor Milk Program
Interested in offering donor milk at your hospital? We are here to help. Check our website resources; download our booklet, Implementing a Hospital Donor Milk Program: A Guide for the Use of Pasteurized Donor Human Milk as Standard of Care; or contact our Director of Client Relations today. We can guide you through every step of setting up your program.