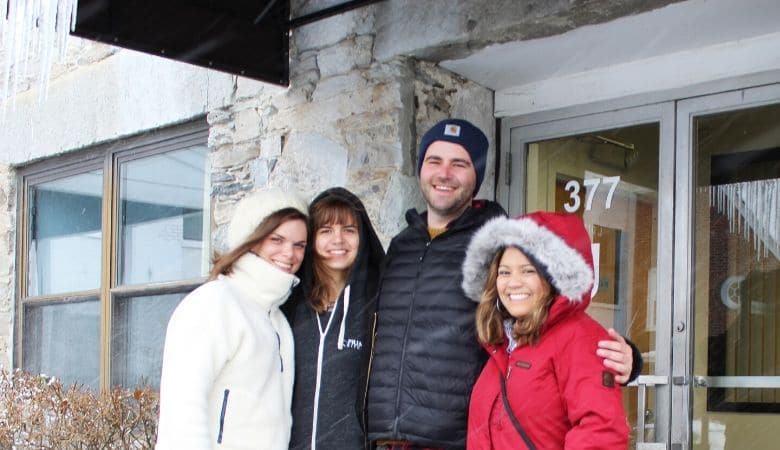 Since Mothers' Milk Bank Northeast was founded, volunteers have played a huge part in the organization's success. Retirees, students, and community members bring a wide range of skills and boundless energy to their volunteer work here. Some volunteer weekly, and others take on specific projects. In recent months we have been fortunate to host several enthusiastic volunteer groups that have visited for the day as part of academic and corporate programs that foster community connections and volunteerism.
Boston University First-Year Student Outreach Project (FYSOP)
On August 29, 2019, a group of nine enthusiastic Boston University students bustled through the door to our milk bank. They reached out to us as a part of their First-Year Student Outreach Project (FYSOP). Their group travels to various community locations, before classes begin, to help familiarize the freshmen at BU with the local community. Hosting students helps our outreach, too; we have the opportunity to introduce them to milk banking so they will be familiar with it later in their personal and professional lives.
They labeled bottles, and they cut up foam for our shipping department. While they worked, they got to know one another, filling the milk bank with lively discussions. We were sad to see them go. They helped us complete two days' worth of labeling. Later on, we received a lovely card from them:
"Thank you so much for letting us volunteer with your incredible organization. It was so worthwhile to expose the students to something they normally would not have encountered. We truly hope to volunteer with your organization again in the future. Thank you so much again." – Julia Pelizzaro & Lauren Knasin
Sarah Wells Bags
About a month later, we welcomed another group of incredible volunteers from Sarah Wells Bags, a company that creates and sells beautiful breast pump bags and hosts a vibrant online community for moms. While the company is based in Washington, DC, employees work in locations across the country and meet once a year for a weekend of team-building, which includes a day of volunteering as well as planning sessions and meetings. Founder Sarah Wells has been a staunch supporter of our milk bank for many years, giving back through corporate philanthropy, in-kind donations, and now, volunteerism.
The Sarah Wells team labeled bottles, cut foam, and created shipping packets for us. In addition to dedicating their time, they treated the entire milk bank to a delicious lunch, and they donated some of their gorgeous bags to one of our community partners, Pettaway Pursuit Foundation, which manages one of our depots and provides perinatal support services to families in Pennsylvania, Rhode Island, and Massachusetts. Over lunch the teams from the three companies bonded over our shared goal of supporting breastfeeding families. At the end of the day Sarah presented us with a generous financial contribution that will help ensure that fragile babies in need receive lifesaving donor milk.
"It is such a pleasure and honor to support you and your amazing work! Thank you for the great experience for my team." – Sarah Wells
Annual Appeal Volunteer Group 2019
Our schedule on Giving Tuesday includes stuffing envelopes for our annual appeal, so we put out a call to our volunteer list to see who could come in and help. One of our frequent volunteers, Jennifer Leone, coordinates the volunteer committee for her company, Yin Yang Naturals; she assembled a dedicated group from Yin Yang and its allied companies, Hustle & Grow and Solely. All of the companies are certified B Corporations (B Corps), which "use profits and growth as a means to a greater end: positive impact for their employees, communities, and the environment." The community spirit of this group was inspiring; as they worked, they shared stories from their wide-ranging volunteer efforts, which included gleaning vegetables, washing apples for food pantries, and selling Christmas trees for charity.
Despite the snow storm, the group arrived at the milk bank all bundled up in their winter attire. Several of them came from the local area, and others from Vermont, Maryland, and California. We were very thankful that they braved the storm for us and our cause. Volunteer Henry Cammack, a former creamery manager, was especially interested in our milk lab, and how it compared and contrasted with his dairy facility.
Weekly volunteer Mary Bell, a veteran of annual appeal mailings, joined the group of six and helped show them the ropes. After making short work of the mailing, the group took on three more projects in support of different departments. By the end of the day, the entire milk bank staff was grateful for their efforts. Some of the visitors even expressed interest in becoming regular volunteers. Jennifer explained how their companies encourage them to use 40 of their work hours per year for volunteering, and how she helps employees to look for volunteer opportunities that interest them.
"Thirty of my hours has been spent here, and it just feels like a good fit." – Jennifer Leone
If you are interested in contributing to the mission of helping fragile babies, individually or as part of a group, please visit our volunteer page to learn more.