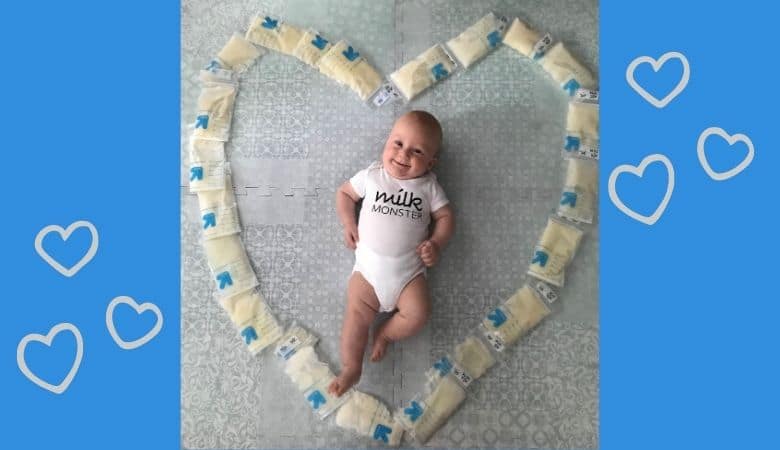 Rhode Island mom Jennifer Pearlman shared that adorable "milk monster" photo when she dropped off milk at one of our milk depots. We interviewed her to learn more about her milk donation experience. It turns out she also received milk just after her local hospital started offering it, and had warm support from nurses—including a family member!
Jennifer, tell us a little about your background.
My husband Eric and I both grew up in Rhode Island and currently live in Warwick with our six-month-old son Miles. I am a pediatric OR nurse at Hasbro Children's Hospital and Eric works for Rhode Island Primary Care Physicians Corporation.
What would you like to tell us about your pregnancy and birth?
I loved being pregnant and felt great the whole time. We didn't find out the gender of our baby, which made the whole experience even more exciting. I gave birth naturally and unmedicated and found it to be a very empowering experience.
What did you expect breastfeeding to be like?
I was expecting breastfeeding to be challenging but also a beautiful bonding experience.
What happened early on with breastfeeding?
Breastfeeding was very difficult at first because Miles was born so small. He had some glucose issues and jaundice in the first few days as well as a tongue tie, which made his latch difficult. Luckily, the hospital we gave birth at had just started the donor milk program, so we were so lucky to be able to supplement with donor breast milk.

Who helped when you were experiencing breastfeeding challenges?
The lactation consultants and nursing staff were the reason we were able to be successful with breastfeeding. The nurses were with me for almost every feeding in the hospital and the lactation consultants helped me so much in the first few days and weeks. My husband was also very supportive and did whatever he could to help. I also had many friends who answered any questions I had.
How did you find out about donor milk? How did you get the donor milk?
My mother-in-law was the manager of the maternity unit at South County Hospital, where we gave birth. She had worked hard to establish the donor milk program and told us about it while I was pregnant. It was launched a few days before we gave birth and we were so fortunate to have it as an option for supplementation.
What happened after you introduced donor milk? How did your breastfeeding journey develop over time?
We used the donor milk a few times as supplementation for hypoglycemia and jaundice and it kept us from being transferred to the NICU. It felt great to be able to give Miles the next best thing to my own milk. It also gave me the confidence to continue our exclusive breastfeeding journey.
How is your baby doing now?
Miles is thriving now. He has tripled his birth weight and is meeting all of his milestones! We have now been exclusively breastfeeding for six months.
How are you doing now?
I am doing great and loving breastfeeding. It is a wonderfully rewarding bonding experience. Being successful has helped give me confidence as a new mother. I am loving every stage of motherhood.
Why did you decide to donate milk?
I wanted to be able to give back to the organization that helped us so much in the early days. We had a large freezer stash that is more than we can use so it felt great to pay it forward.
Tell us about the donation experience and about pumping.
The screening process was easy and the girls on the phone were so nice. I pump at work as well as use the Haakaa during morning feeds. I freeze any excess and donate what we don't need.
You used one of our milk depots as well, didn't you?
We dropped off our milk at Healthy Babies, Happy Moms in East Greenwich, which was super easy and convenient.
What would you like to tell other moms about donor milk and about breastfeeding?
Donor milk is a great option as it is the next best thing to mother's milk for your baby. Breastfeeding is absolutely worth the effort if you stick with it. It can be really difficult at first but once you get the hang of it, it is convenient and so rewarding.
Screening to become a breast milk donor is an easy four-step process. Once accepted for donation, milk can be shipped for free door-to-door or through one of our donor milk depots throughout the Northeast.