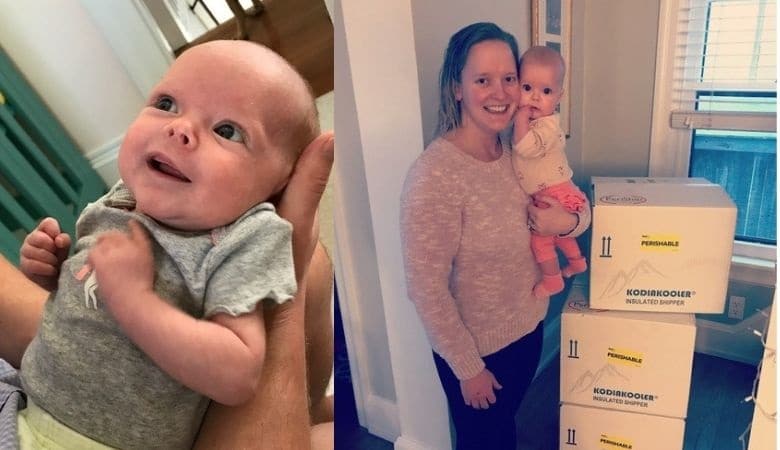 Elizabeth, a NICU fellow at a Philadelphia hospital, shares her story of donating milk in honor of the babies in her care.
We found out we were pregnant right before Thanksgiving 2019. We were beyond excited. The pregnancy was pretty uneventful.  Other than the nausea and food aversion that lasted until about 18 weeks, I felt energetic and healthy through most of my pregnancy. Labor was a different experience. We were induced at 39 weeks and Madelyn did not tolerate labor well. After 32 hours of labor and two hours of pushing, we decided to go for a cesarean section. Turns out she was sunny side up! Madelyn came out crying and was perfect.
We started nursing right away and my milk came in quickly—for which I was truly grateful. We had some latching issues that ended up being due to a tongue tie and it was a rough first six weeks. We worked closely with the lactation consultant at our pediatrician's office and a friend who was also an IBCLC, and they helped me to work through our obstacles and continue on our journey.
Oversupply and full freezer
It was about three to four months into our breastfeeding journey that I found myself with a big oversupply (along with a freezer filling up) and was looking into donation.  I am a neonatal-perinatal medicine fellow at a hospital in Philadelphia and knew the benefits of donor milk for preemies from my training. I thought how special it would be to be able to donate in honor of the very babies I take care of everyday!  I asked our pediatrician about places to look into and she recommended Mothers' Milk Bank Northeast!
Easy screening process
The screening process was very easy and I was surprised about how much of my milk qualified!  It took about a month and a half to complete the whole process and we sent in our first donation right after the new year. My husband is very happy to have some freezer space back!
While donating milk formally this way requires extra attention to how and when I pump and some extra cleaning of parts, it seemed a small inconvenience compared to the benefits these babies will get from my milk.  It may seem like a long process to get screened, but the milk bank takes care of most of the work for you.  I am so grateful for how easy they make the process and how well taken care of I feel by the organization. I feel more empowered to speak to my patients' families about donor milk, given I have first-hand experience in both donation and use.
If you have extra milk, consider donation! The babies thank you and I thank you as a future neonatologist.
Screening to become a breast milk donor is an easy four-step process. Once accepted for donation, milk can be shipped for free door-to-door or through one of our donor milk depots throughout the Northeast.