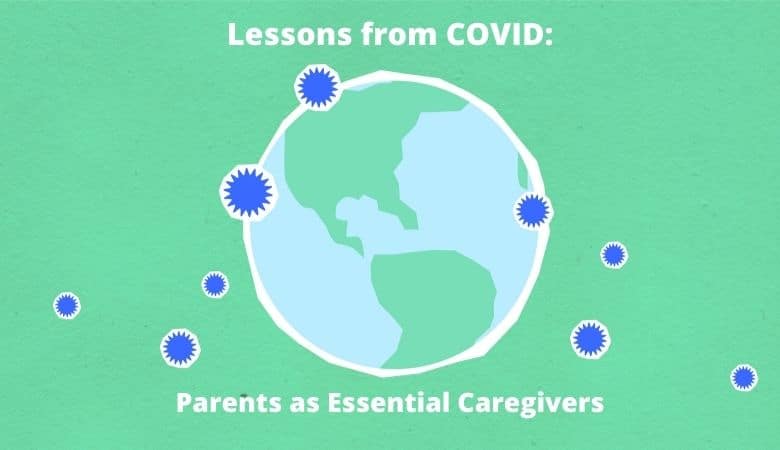 Second of four in a series
Anniversaries (of birth, marriage, death, countries' independence, war, peace) are an opportunity to celebrate, mourn, reflect back, project forward. The US and the world are marking one year of COVID, worthy of a moment's reflection. Some countries have vanquished COVID, most have not. Our collective response to the pandemic has brought forward vulnerabilities that will outlast the pandemic, unless we use this as opportunity for long-term change. This essay on parents as essential caregivers is the second in a series of four blogs, exploring a few such opportunities in our small corner of a world we all work so hard to improve.
Family-centered care
Over the last few decades, NICUs across the country have come to recognize and implement family-centered care for their patients. Parents, and sometimes other family members, are deeply involved in the direct care, monitoring, and decision-making regarding their premature and sick babies. Hospital programs and policies have evolved and vary widely, as do parents' needs, availabilities, and capabilities.
COVID-19 has brought with it much uncertainty, confusion, and frequent changes in our knowledge about it. As a result, hospital policies have also changed, seemingly weekly sometimes, regarding parent presence in the NICU and involvement in their baby's care. At the beginning of the pandemic many hospitals had strict policies forbidding partners from supporting women in labor, and parents from seeing and caring for their babies in the NICU. Fortunately, with more information about virus transmission and safety measures, many hospitals have relaxed some of these rules. However, with good reason, concerns remain. As we are vaccinating against COVID-19, new, more easily transmitted strains are also appearing, and the virus will continue to mutate. COVID-19 is still very much a part of our lives and our safety considerations.
Essential personnel in the pandemic
COVID-19 has brought with it a new term, in several variants—essential worker, essential caregiver, essential services. It includes a wide range of people and services—first responders (police, fire, and EMTs), health care providers, hospital personnel, health aides, grocery store and pharmacy workers.
Research tells us that parental care in the NICU leads to shorter hospital stays and better outcomes. The same is true for other babies, children, even adults in the hospital. Family caregiving matters. What does it look like now for parents to be essential caregivers for their babies in the NICU? The pediatric unit? Adult patients? They are not hospital staff and many are not as familiar with safety protocols. Collectively, parents come in and out more frequently and turnover is higher. What precautions are staff expected to take outside the hospital to mitigate risk to one another and patients? How can all these factors be applied to parents? In addition to being caregivers, parents also need care and services. What support do parents need so they can be essential caregivers? Transportation? Translators? Child care? How can these be incorporated safely? What is the hospital's role in meeting those needs? How can hospital and community best interface together to meet these needs in hospital and when baby goes home?
Joint statement on family presence in the NICU
In January, the Association of Women's Health, Obstetric and Neonatal Nurses (AWHONN), the National Perinatal Association (NPA), and the National Association of Neonatal Nurses (NANN) released a joint statement on family presence in NICUs. "In an unpublished study of NICU parents during the early months of the COVID-19 pandemic, one parent stated, 'Parents are essential caregivers too.'"
The statement's recommendations include:
Unrestricted access to hospitalized infant
Parents abide by the same PPE and other COVID safety rules as other NICU caregivers; hospital provides parents with face shields, clear masks, rapid testing
Video conferencing for rounds and other meetings when parents cannot be present
Parent representation in groups developing or modifying policies
With COVID- 19, there is little research to inform evidence-based practice, so policies vary widely and change frequently. Whatever each hospital's polices are, safety, care, and health of the infant dictate that parents as essential caregivers is a given. What is your experience as a parent or as a NICU provider? What practices have succeeded that you would pass on to others? What would you like to implement in your community or hospital?
Read the first blog of this series, on preterm birth; the third, on pregnancy and drug trials; and the fourth, on breastfeeding.