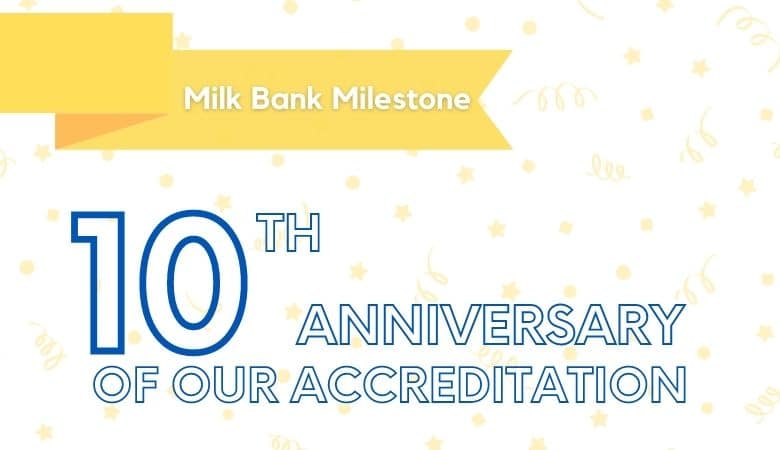 This month, Mothers' Milk Bank Northeast celebrates its 10th anniversary as an accredited HMBANA milk bank. The first week of this month marked World Breastfeeding Week, whose theme was "Protect Breastfeeding: A Shared Responsibility." For 15 years, including our 5 years in development, our milk bank has been honored to share responsibility for protecting breastfeeding with advocates, providers, parents, families, educators, researchers, legislators, and fellow milk bankers.
"Breastfeeding (or not) touches the lives of every person who was, is, or will live on this planet. So . . . breastfeeding is a shared responsibility." Starting and growing a milk bank takes the dedication of many many people with training, skills, and talents far outside of lactation.
Breastfeeding expertise and more
As with many organizations, we began as a group of experts in lactation, passionate about our mission. We shortly realized that achieving that mission would require supporters who might know little or nothing about breasts, breastfeeding, breast pumps, and human milk, but who would know a lot about human resources, nonprofit and contract law, fundraising, finance, business, food safety, construction, IT, software platforms, marketing, social media—the list goes on. Over the last 15 years, many people who never thought they would do so are now sharing the responsibility for supporting breastfeeding. We have learned much from them about their fields and they have learned from us. Together we share the responsibility to support the breastfeeding that impacts all of us.
It is not possible in a blog to thank individually all who have helped us to reach this milestone, so we do so by groups.
Board of Directors and Board Committees
Each member brings unique knowledge and perspectives that help us advance our mission responsibly, solvently, and ethically. They support our work individually and as a team, diving deeply into many aspects of our work to guide our planning and operations. We are also very fortunate that when our board members rotate off the board, they very often continue their engagement on our growing number of committees.
Medical and Research Advisory Boards
To do our work, there is much to know about current research and best practices in milk banking, neonatology, and well-baby care. Our active, professionally and geographically diverse Medical and Research Advisory Boards advise us on matters of science, medical care, and ethics. They are our window into the worlds that we touch, as we give them a deeper knowledge of milk banking, which they bring back to their work.
Staff
In 15 years, we have grown from a staff of four to 24 today. Current staff members stand on the shoulders of many predecessors. Each and every staff member, past and present, has contributed their hard and careful work, ideas, knowledge, and dedication to our mission—to the babies. In turn, they have learned about business, advocacy, human milk, freezers, food safety, HIPAA, social media, breastfeeding, and one another.
Volunteers
No nonprofit organization can survive without the help of volunteers. In addition to our volunteer boards, numerous volunteers support our mission. All of our milk donors are volunteers, donating their time as well as their milk. Our depots and dispensaries are operated by volunteers who believe in the importance and power of human milk. In addition to making milk and donor drop-off available locally, they also educate the community and support breastfeeding. We also have dedicated volunteers who help in our office with many tasks. Some come regularly, some on occasion, some only once. The work of all our volunteers is crucial. Our thanks to all of them.
Students and Interns
There is so much to learn. We are grateful to all the interns and students who have focused their research and theses on some aspect of the work we do. They have furthered the body of knowledge about milk banking.
Milk Bankers
We are members of a knowledgeable, supportive network of colleagues from accredited milk banks across North America, all devoted to our common goals—supporting breastfeeding and making sure donor milk reaches those in need safely and equitably.
Hospitals and Providers
We share responsibility to support breastfeeding and the mothers and often fragile, tiny babies in our care with many hospitals and providers. Together, we are in an ongoing quest to support and educate ourselves, one another, and parents.
Advocates
Breastfeeding advocates come in many forms, including parents, grandparents, legislators, employers, lactation professionals, and health care providers. They keep us grounded in the communities and families we serve and #normalizebreastfeeding every day.
As World Breastfeeding Week 2021 reminded us, supporting breastfeeding is a shared responsibility. Our 10th anniversary as an accredited milk bank is an opportunity to celebrate and thank all those in our part of the interconnected breastfeeding support world who share this responsibility together.
Naomi Bar-Yam is the founder and Director Emerita of Mothers' Milk Bank Northeast.