In this profile, we meet Tali Flomenhoft, whose Mexican/Israeli background and commitment to reducing health disparities inform her work on our board of directors and in her career.  
Tali, how did you first get involved with the milk bank?
In 2018, Mothers' Milk Bank Northeast was awarded an Adobe Foundation Employee Community Fund Grant, which gave the organization financial resources to implement its Spanish-speaking strategy at its full capacity. As a native speaker of Spanish and a former community outreach ambassador at different nonprofit organizations in the Greater Boston area, I was able to help the milk bank jump-start its Spanish-speaking efforts during a summer internship. Most of my time at the organization focused on the following question: how can we strategically provide access to Spanish-speaking mothers in the Northeast region and beyond? I collaborated with the Donor Intake Coordinators, the Director of Community Relations, and the Executive Director.
A lot of my work focused on the initial steps of this program, which included the translation of materials and developing infrastructures that would serve the organization as they implemented the Spanish-speaking program. More specifically, some of the work that I was doing included looking at demographic data, participating in outreach events, and attending meetings with perinatal professionals at several hospitals. I was also able to help with the development of Spanish materials, and I created a report to understand the language capability landscape at all the HMBANA milk banks.
How did you come to join the board?
My graduate school professor, Mark Rosen, is a board member, and he helped place me in the initial internship. He strongly believed that my Mexican background as well as my public health experience would be great assets to the organization.
A few years later, while I was the Associate Director of Parent and Family Giving at Brandeis University, the milk bank was looking for a board member to support and grow the fundraising efforts at the organization. At that time, Professor Rosen as well as Executive Director Naomi Bar-Yam thought of me as someone who could bring that expertise to the board.
What do you enjoy most about serving on the board?
It is a true honor to serve on the board of the milk bank and have responsibility for an organization whose mission is to provide human milk to fragile babies and ultimately save lives. Collaborating with other board members and spearheading the fundraising efforts at the board level is very important to me.
The perspective that I bring to the board as a Mexican/Israeli public health and fundraising professional is also something that I enjoy. For two years, while in graduate school, I had the opportunity to study nonprofit organizations, their composition, and their governing structures, and I feel very grateful to be able to provide this guidance and support to the milk bank.
Do you have a specific responsibility or role in the organization?
Yes, I focus specifically on fundraising. In this role, I organize trainings, help with the development of plans, and work towards 100% participation from the board. It is so important for us as stewards of the organization to show our commitment to the milk bank and lead other supporters by example.
Tell us something you'd like the public to understand about fundraising.
Fundraising is about relationships, being able to make others feel connected to the mission, and the impact that they are making to their community by providing their support.
Sagi Melamed in his book, Mindful Fundraising, explains,
Fundraising and development, as I see it, is about vision and dream. Fundraisers must believe in the cause for which they are raising money and must be capable of translating the organization's physical and fiscal needs into a vision and a dream. A fundraiser who treats his or her work as begging and views donation requests as requests for personal favors from the donors will never succeed. Fundraising in this day and age can essentially be boiled down to 'motivating and inviting people to fulfill a dream while inspiring them to use their money to do good.' (pg. 7)
 Tell us more about your professional background.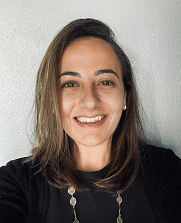 I am currently the project manager at Bay Cove Human Services, working specifically in the Boston Certified Community Behavioral Health Clinic, a multidisciplinary team that supports people from all different backgrounds with navigating the complexities of behavioral and physical health services in the Boston area.
Previously, as the Associate Director of Parent and Family Giving at Brandeis University, I worked directly with parents and families at the university to raise funds for causes that were most meaningful to them and their students. This work required a deep understanding of the cycle of fundraising and the importance of developing caring relationships. At the JCC of Greater Boston, I analyzed donation trends, conducted research, and developed a staff campaign timeline. In the past I have led health education outreach activities at The Family Van, and drove the creation of a mental health survey instrument at the Health Equity Research Lab.
How does your personal background influence your work with the milk bank?
I was born and raised in Mexico City and lived in Israel before arriving to the United States for my undergraduate studies at Brandeis University. I grew up at the intersection of Mexican and Israeli culture at home. I have learned to leverage my rich cultural and linguistic literacy to work towards reducing health disparities for people from all cultures and backgrounds at different organizations.
The mission of the milk bank to provide human milk to fragile babies and support mothers is what speaks the most to me. Additionally, in the United States racial and ethnic minorities have larger numbers of preterm births. Preterm babies benefit the most from human milk and Mothers' Milk Bank Northeast provides access to this important resource through its Special Assistance Program. This program provides human milk to mothers and families who otherwise would not be able to afford it. The milk bank also advocates at the state and national level for a future where human milk is covered by public and private insurances. In my opinion, this is crucial work that increases equity and ensures access to human milk for fragile babies.
Thank you, Tali! We are fortunate to have someone with your perspective and experience on our board.