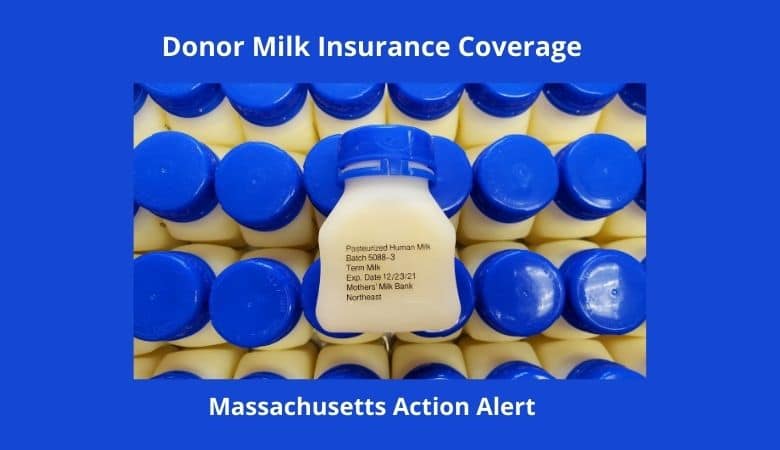 On Tuesday, November 9, 2021, there will be a public hearing on insurance coverage for donor milk in Massachusetts. If you believe that all babies deserve access to medically necessary lifesaving donor milk, we urge you to attend this hearing and make your voice heard. We also encourage you to submit written testimony in advance of the hearing, especially if you live in Massachusetts or work with families in Massachusetts. This hearing will be conducted via Zoom, which enables you to participate without traveling to Boston.
Here are the details currently available:
Text and status of bills
The two bills are identical and will be considered together.
House Bill H.1106, An Act Relative to Human Donor Milk Coverage
Senate Bill S.717, An Act Relative to Human Donor Milk Coverage
Hearing time and committee information
Joint Committee on Financial Services
Tuesday, November 9, 2021
11 am – 4 pm
Via Zoom
How to testify
You can speak, write, or do both. Here's how.
Sign up in advance to testify at the hearing
You can sign up to testify until Thursday, November 4 at 5 pm by filling out this form. After you register, you will receive further instructions about a day before the hearing, including a link to participate.
The committee generally takes testimony in the order of sign-up for all bills considered at the hearing, so be sure to register early! Each speaker has a 3-minute limit.
If you are a parent whose baby has received donor milk and you are interested in testifying at the hearing, we would like to speak with you. Please contact Director of Community Relations Ann Marie Lindquist by email or phone (617-527-6263 x2).
Submitting written testimony
We urge you to submit a letter of support addressed to the Committee via email to Committee Staff Director Mary Roy. She will distribute your testimony to all Committee members. You may also wish to copy your own State Senator, State Representative, or particular members of the Committee. Senators can still sign on to support the bill, so urge your own Senator to do so.
Not sure what to write? Download this template for ideas.
View or listen to the hearing
Click here to watch the hearing. On the day of the hearing, look for this hearing's listing and click on the "Live" icon to view. After the hearing closes you will be able to view by clicking on "Archived."
Follow these bills and more
You may find it helpful to sign up for a MyLegislature account, in order to follow the progress of these bills as well as other legislative activities.
Questions?
Contact our Director of Community Relations, Ann Marie Lindquist.
Make your voice heard for Massachusetts babies!
Follow our blogs, Facebook, Instagram, and Twitter for updates.
This page last updated on 10/27/21.