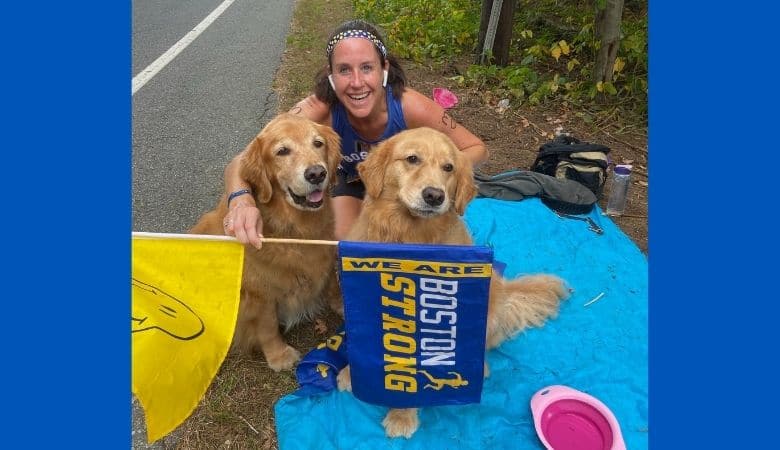 Every city and town along the Boston Marathon route receives a number of bibs to distribute to qualified local runners. In return for a bib, which grants a runner entry into this elite race, the runner agrees to raise funds for a local charity. For the first time in 2022, the City of Newton granted a bib to Mothers' Milk Bank Northeast and matched us with runner Maureen Cummings. We have named Maureen's campaign "Team Preemie," in honor of all the fragile babies we serve. We interviewed Maureen about her experiences running for charity.
Maureen, tell us about yourself. What do you do when you're not running?
I have been a nurse for about 19 years now. For the past 18 years I was a pediatric nurse, but once the pandemic hit, I was deployed and then decided to change my career path. I am currently working in a Post-Anesthesia Care Unit (PACU) as well as at a travel clinic in Newton, mostly doing education and vaccination for those traveling internationally. My passion for pediatrics is still very much there, along with generally helping other people. In addition, I have a seven-year-old rescue dog named Yogi, who is my life!
We can't think of a better match for the milk bank than a pediatric nurse. What did you think when you found out you'd be running for us?
I was browsing your website and was so impressed by your organization and the wonderful things that you do that I was not even aware of. I am honored to help be a part of that.
Have you run the Boston Marathon before?
This will be my sixth Boston Marathon. Five of them I have run for charity, and for one I was lucky enough to get a number through a former patient of mine who was a firefighter in Newton.
How did you start running? What keeps you going?
I am not a fast runner. I used to be, back in the day, but I have had two spinal fusions, one at the age of 12 and one as recently as 2017, when I was told I would never run again. This is what inspired me to then work really hard to be able to run in 2018, with the approval of my surgeon, of course. I wanted to show others that if you put your mind to things and put the work in, anything is possible, and not to let disabilities define you. I hope to inspire other runners to get out there and try even if they may not be "fast." I enjoy being able to be out there running as well as helping give back to others.
The parents of the fragile babies who receive our milk face their own marathons, and every day they are measuring milestones in their children's development. Do you have anything you'd like to say to them?
I am honored to be a part of helping these babies and their families. I cannot imagine what it is like to go through this. I hope that my efforts to train hard and raise money for and awareness of Mothers' Milk Bank Northeast can help in some way. Keep fighting for your precious babies! It will be worth it in the long run. Just like training for a marathon, slow and steady wins the race! Take care of you, too!
When you run the Boston Marathon for charity, what do you agree to do when you're assigned a bib?
When you run Boston Marathon for charity, you agree to raise a certain amount of money for that charity, on top of all the hard work of training every week to be able to physically run and finish the marathon. It's a lot, but when you look at all these babies and their families have to go through, this is minuscule in comparison.
This is the milk bank's first time working with a Boston Marathon runner. We have a lot to learn from you. How can everyone in the milk bank community help you reach your goal?
The best way to help is to spread the word. Every donation matters and has an impact; nothing is too small. If you are unable to donate, passing the link along to those within your network via email, text, and social media are amazing ways to spread the word and allow for more people to help donate to this amazing cause!
Is there anything else you'd like to tell us?
Please help support me in this amazing cause!
Maureen will run the Boston Marathon on Monday, April 18. To support Team Preemie and donate to Maureen's campaign for Mothers' Milk Bank Northeast, visit her Boston Marathon fundraising page.