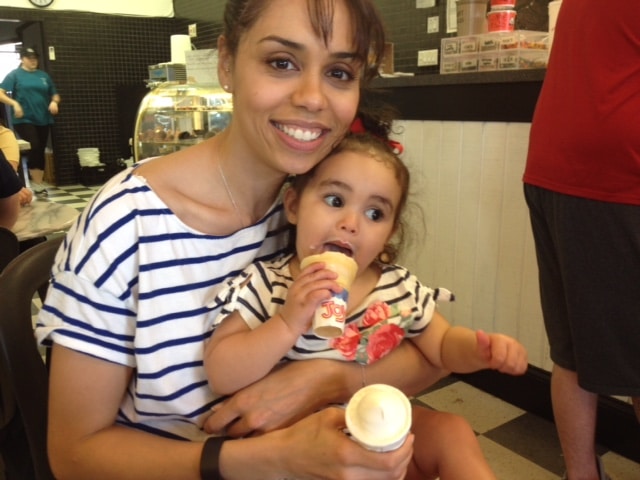 I had my daughter Giuliana in December of 2013. As a new mom I knew I wanted to try breastfeeding, but honestly had no clue as to how it might go. After a bit of a rocky start and a few days of practice, Giuliana latched on and thrived.
As I geared up to go back to work after her birth I started pumping in the mornings about a month before I went back. I noticed that I was pumping quite a bit of milk in one sitting and very quickly filled my freezer with breast milk. I went back to work with a large stash saved.
As the months passed I realized that I had far more than we could ever use. In the lactation room at work I had noticed a flyer for Mother's Milk Bank Northeast and called them to see if I qualified to donate. I didn't know a lot about milk donation, but really liked the idea of being able to help babies who weren't as healthy as my own.
The process was very straightforward, and within about a week or so I was able to donate my first batch of milk. MMBNE made it easy for me to donate. Since I lived close to their New England location someone would often offer to pick up milk on their way into work while I was working from home.
My workplace, Boston Children's Hospital, has been partially responsible for my success breastfeeding and donating. They have several employee lactation rooms equipped with hospital grade pumps throughout the campus. My direct boss was also incredibly supportive and allowed me to take the time I needed to pump.  The ease of donation, coupled with my incredibly supportive work place made it possible for me to donate over 1,000 ounces of milk.
I've been extremely lucky to have such a healthy daughter. We're still happily breastfeeding 19 months later. Donating milk to MMBNE and babies who haven't been as healthy and could use a boost has been my small way of paying it back.
Screening to become a breast milk donor is done through an easy four-step process. Once accepted for donation, milk can be shipped door-to-door or through one of our donor milk depots throughout the Northeast.