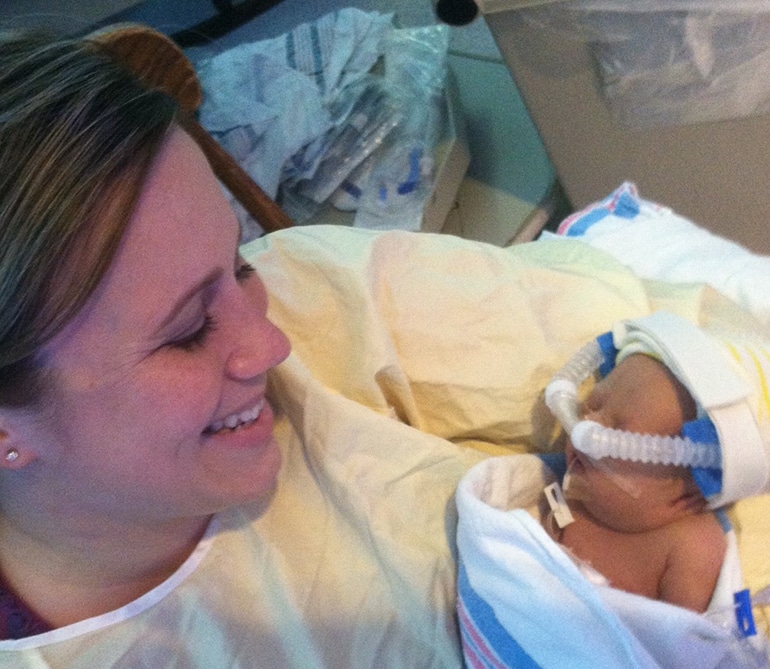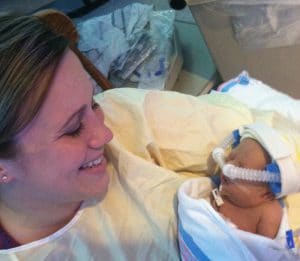 Lois shared the story of her daughter Lucy Grace when she learned of the milk bank's Memorial Quilt, which bears a leaf with the name of every baby whose mother donated milk after loss.
This is a most tender time of year for me and my family. The third anniversary of my daughter's death is on October 21. In some ways it seems like just yesterday that I held her in my arms, and in so many other ways it feels like an eternity.
Lucy Grace was the light of my life. Lucy was also very sick. She was delivered two months early with Down syndrome, holes in her heart, and transient leukemia. Her many adversities only made me love her even more.
From the moment I discovered that I was expecting I had planned to breastfeed, just as I had done for her older brother. Because she was so ill, this of course meant pumping. I would take breaks during my NICU visits and slip into the hospital's "private pumping parlor." It was a welcome respite—a place to both gather my own composure and express my milk. I'm sure those collection bottles managed to also capture a few of my falling tears.
On many days I just felt so small and powerless as my baby lay hooked up to all kinds of equipment, my view of her often eclipsed by doctors' white lab coats. I couldn't change her diaper, I couldn't bathe her—on most days I couldn't even hold her. But, at the very least she could have my milk—aside from praying it was often the only thing that I could really do to contribute to her care. I found strength in knowing that she would literally get the very best of me in every possible way.
Lucy never left the hospital. She lived there for all two months and eighteen days of her precious life. She passed away peacefully in my arms as her father and I rocked her.
I was left with an aching heart, empty arms, and a massive deep freezer full of breastmilk. Clearly, not the way I envisioned our "happily ever after." But, somehow it's all in God's plan—as difficult as that often is for me to bear.
Lucy's amazing NICU nurses at St. Peter's University Hospital in New Brunswick, NJ gave me the information about Mothers' Milk Bank Northeast at my request. They knew how proud I was of the impressive "milk stash" that I had built up. They also knew the value in that "liquid gold."
So, my son Vincent (who was just two years old at the time) "helped" me to package up the milk. He loved the little penguin perishable stickers that were to go on the outside of the shipping boxes and helped me to affix them. We each kissed the boxes as we placed them for pick-up and we waved goodbye together when the courier came to collect them. Our milk was going off to help sick babies.
Since Lucy's passing, our family welcomed her little brother Max. He looks like Lucy, and I often see her sparkle in his big dark eyes. By the grace of God, Max is now a healthy and happy toddler and growing taller by the minute. And, yes—I breastfed him for a full year.
To the casual observer our family looks outwardly average.  A mother, a father, and two rough and tumble little boys.  But people cannot see who is forever written on our hearts.  What hurts even more are those who knew of Lucy, but have already forgotten her, assuming that we have "moved on." Yes, time continues forward, but as anyone who is a bereaved parent knows, there is no "moving on" and children are not interchangeable.
Your organization has not forgotten—even years later. It is for this reason that I am so thankful for the existence of the Memorial Quilt. The milk that I sent was a donation from the purest part of my heart, but it was after all intended for someone else. The milk that I sent was really a gift from Lucy.
Trying to make sense of the journey my family is on is nothing short of difficult. And perhaps it is not really meant to be understood by us in this lifetime. It is with a grateful heart that I do reflect on the brief time on Earth that I was chosen to be Lucy's mother. She continues to bless my life and I know that she is certainly an angel watching over our family. It makes me smile to think that she might also be an angel for those families who received her milk.
Thank you for allowing me to share our family's story and why this Memorial Quilt is so special to us. Behind each quilted leaf on that tree there a story and at the heart of each story a precious baby—lost, but never ever forgotten.