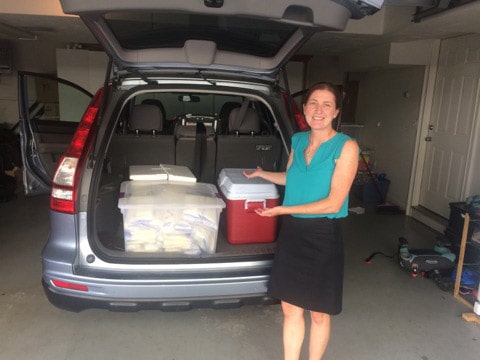 By Raechel Hackney.
A neonatologist so committed to her work that she herself donates milk: that's Dr. Meg Parker, member of the milk bank's Research Advisory Board and mom who personally pumped over 2,000 ounces for preemies and fragile babies!
Researcher focused on supporting moms
As assistant professor of pediatrics at Boston University School of Medicine and attending neonatologist at Boston Medical Center, Meg's research focus is optimizing feeding practices—in particular, the hospital team's role in supporting mothers who provide milk for their preterm infants. Currently she leads a three-year multi-center quality improvement collaborative of all the level 3 neonatal intensive care units in Massachusetts that is focused on helping mothers make milk for their infants. The milk bank is also a partner in this effort.
Donor milk supports breastfeeding
Meg's connection with the milk bank goes back to 2011, when Boston Medical Center began planning a donor milk program. Her team studied the effect of the program on mothers, and found that introduction of a donor milk program led to high rates of mothers providing their own milk. She attributed this finding to a general cultural change at the hospital, with more support of mothers and increased understanding of the importance of human milk.
Advancing research on donor milk
The milk bank's Research Advisory Board extends our mission of providing donor milk by supporting and promoting research on human milk and milk banking. Twice a year, our seven-member Research Advisory board meets with our Medical Advisory board and staff members to share in a discussion of current issues and research.
Having joined the Research Advisory Board four years ago, Meg exclaims, "I have loved participating on the board. It is a great way to discuss current issues in milk banking with a highly invested group of individuals. The overarching goal is to optimize the health of preterm infants through human milk. "
Milk donor experience enhances her work
As a milk donor with her second and third daughters, she feels fortunate to have had a lot of extra milk, and finds it rewarding to give back to her preterm infant community. Having experienced the donor screening process herself, she can now better explain it to mothers and hospital team members.
When she is not working, she enjoys spending time with her three daughters, Sadie, Ashley, and Chloe, and her husband Mike. If there were more hours in the day, or more time in the week, she would pursue her other passions—snowboarding, ultimate Frisbee, swimming, and traveling—but for now she is content with keeping up her running.
We are grateful to have many such dedicated people contributing to the field of human milk banking, and in particular, Dr. Meg Parker, for helping countless babies both in her professional role and as one of our most generous milk donors.
Screening to become a breast milk donor is done through an easy four-step process. Once accepted for donation, milk can be shipped door-to-door or through one of our donor milk depots throughout the Northeast.