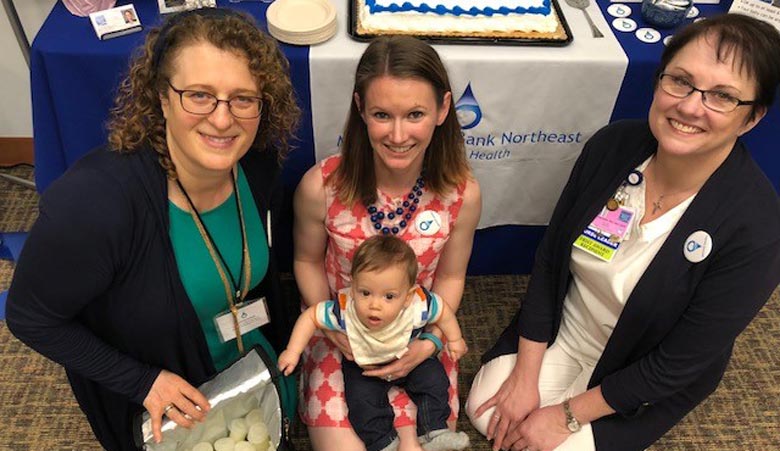 Portsmouth Regional Hospital opened New Hampshire's fourth milk depot in a festive grand opening celebration on May 9, 2018.  Mothers who had donated and received milk told their stories and helped cut the ceremonial ribbon as local families and hospital staff members cheered.
Caryn Coates of Wolfeboro, NH, and Becca Webb of Kittery, Maine, helped fill the new depot freezer with their donations of frozen milk. Alexis Gilbert of Dover, NH, was especially moved to attend the ceremony since her child received milk at Maine Medical Center when he was born prematurely. Now a milk donor herself, Alexis shared, "It's an honor to pay back the same kindness some unknown mom showed my son seven years ago."
In addition to hosting a depot, Portsmouth Regional Hospital is one of 11 hospitals in New Hampshire offering donor milk to patients. The hospital's successful donor milk program was the subject of a recent article on the our blog. Of the milk bank's 19 depots, five of them are located at hospitals where babies can also receive milk. This makes it especially meaningful for mothers in those areas, who know that their milk could very well be helping babies in their own communities.
In an interview with Maine television station WGME, Nora Fortin, Director of the Maternal, Child, and Women's Health Unit commented on the generosity and motivation of milk donors, saying, "It's hard earned, hard worked milk, so they are very receptive to donating." Cynthia Cohen, the milk bank's Director of Client Relations, concurred, commenting, "Donor moms are absolutely our heroes."
Press coverage of the opening was enthusiastic and widespread, reaching audiences nationally. In addition to the WGME newscast, the Portsmouth Herald and Seacoast Online covered the event and also previewed it. New Hampshire Public Radio also reported on the opening, as did the Associated Press (AP), with related pieces in US News, Seattle Times, Caledonian Record, and other publications.
Donors who have been fully screened by the milk bank can drop off milk at the new depot Monday through Friday 8-4 pm or by calling 603-433-4086 to schedule an appointment.