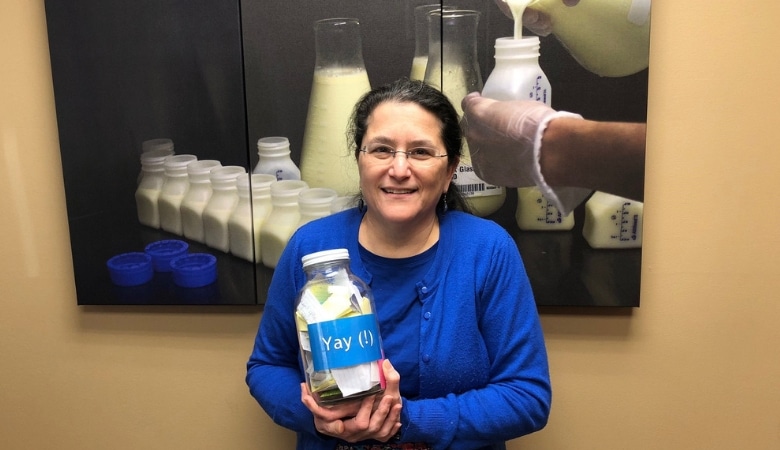 At Mothers' Milk Bank Northeast we have a talented, smart, devoted, caring staff. We care about the work we do, the babies and families we serve, and one another. We work together as a team, celebrate and observe one another's professional as well as personal (including, of course, family) joys, milestones, losses. Our staff shares lunch together, recipes (some day, we'll put out a milk bank cookbook—look for it; it'll be great!), stories, advice, funny and poignant memes, and YouTube videos.
We carry our mission into our lives. A couple of years ago, we started including Milkbank Outreach Moments (MOMs) at our staff meetings. We report opportunities we've had to mention and explain milk banking to unlikely listeners. For example, while I was walking the beach with my mother in Florida, three teenage boys followed us. After a few moments of nervousness on our part, they offered to take a picture of Mom and me in the sunset (neither of us has long enough arms for good selfies). We chatted, discussing their studies and interests and my profession. From three high school boys, I expected the "ooh yuck" reaction we are so familiar with. I was wrong. They had never heard of a milk bank, but thought it was a very cool idea, and couldn't wait to tell their friends about it. That's a Milkbank Outreach Moment.
About two years ago, Mothers' Milk Bank Northeast was in a high stress time, with much to do and frustrations abounding. We've all been there in our lives and in our work. We started a YAY!! jar. Whenever something wonderful, or even just something positive, happens, someone writes it on a piece of paper and slips it in the YAY!! jar. For the person adding to the jar, just writing something positive feels good. Watching the slips of paper grow over the year is encouraging for all of us. At our year-end staff/volunteer holiday lunch, we open the jar, pass it around, and take turns reading our YAYs. It's a great way to review the year, celebrate our accomplishments, and look forward to next year.
This year's YAYs included fully implementing donor screening in Spanish, screening our 5000th donor, processing our 3000th pool of milk, opening new depots in new states, opening our first outpatient milk dispensary, partnering with the all-women's Moving Violations Motorcycle Club on milk deliveries,one of our Donor Intake Coordinators completing her CLC certification—the list goes on. Our jar is empty again, waiting to see what 2019 brings.
Thanks to Ann Marie Lindquist, our Director of Community Relations, for introducing MOMs and the YAY!! jar. Both have made our work together richer and more fun.
Wishes for a 2019 of joy, good health, and a full YAY!! jar for all.