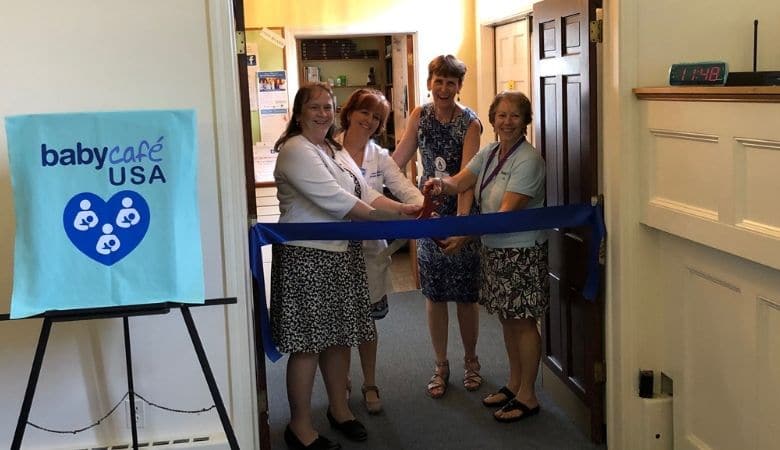 Community partners coming together to help the tiniest citizens: that is what the MWH Baby Café Depot is all about.
The depot opened on July 12 in a festive celebration that brought together the many community partners who made this happen: milk donors, a milk recipient, a Baby Café and the families it serves, a hospital, a church, a bank, an appliance store, and of course the milk bank.
The idea and the community partners who helped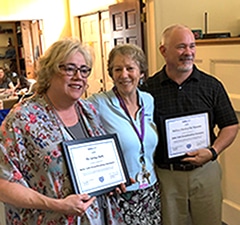 The idea for the MWH Baby Café Depot sprang from a conversation between Lucia Jenkins, Executive Director of Baby Café USA, and Ann Marie Lindquist, Director of Community Relations at Mothers' Milk Bank Northeast. Lucia and Ann Marie first knew each other years ago as La Leche League Leaders, and were discussing how to raise awareness of milk donation at Baby Cafés. In a flash of insight, Lucia decided that she needed to open a milk depot at the café she operates in Melrose at the Melrose Church of the Nazarene, which was the very first Baby Café in the USA. Within 24 hours, Lucia had secured a depot freezer, donated by Gray's Appliance and The Savings Bank of Wakefield.
Baby Cafe USA is a nonprofit organization supporting the development of licensed Baby Cafés in the United States. Baby Cafés are free, drop-in community spaces where mothers can breastfeed, connect with other mothers, and receive support from trained lactation professionals.
Hospital provides donor milk as bridge to breastfeeding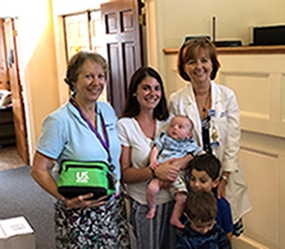 MelroseWakefield Hospital sponsors the Baby Café that hosts this depot. MelroseWakefield, a Baby-Friendly Hospital, has a robust lactation program, where Lucia works alongside Mary Foley, RN, IBCLC, Lactation Program Coordinator, and Kati Roe, BSN, RNC, Director of Maternal-Newborn Services. MelroseWakefield has been on the leading edge of hospitals offering donor milk in the special care nursery as a bridge to breastfeeding.
In advance of the opening, milk bank staff reached out to local milk donors, and were overwhelmed by the enthusiastic response. As a result, five milk donors arrived at the opening, bearing boxes, bags, and coolers, and donated close to 1300 ounces of milk total.
Milk donor whose baby received milk tells story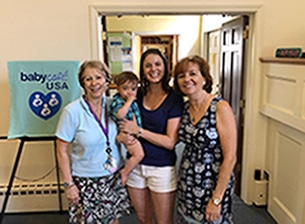 Each donor spoke about her donation experience. In addition, a sixth donor, Lisa Anderson, told how meaningful the day was for her family. Her son, Peter, who received donor milk as a premature baby at MelroseWakefield, had just celebrated his first birthday. There was not a dry eye in the house as she thanked Lucia, Mary, and the Baby Café for their support, and told how she had come full circle to donate back to the milk bank.
Following the ribbon cutting at the event, Lucia presented Baby Café Breastfeeding Champion awards to the pastor of the Melrose Church of the Nazarene and to representatives of The Savings Bank and Gray's Appliance.
The Melrose Weekly News and Wakefield Daily Item featured coverage of the depot opening.
Screened milk donors can schedule an appointment to drop off milk at the MWH Baby Café Depot by calling the MWH Breastfeeding Support Center at 781-979-MILK(6455) or emailing Breastfeeding@Melrosewakefield.org. Find a full list of our depots here.