Hello! My name is Sam and I'm excited to share my journey with breastfeeding and milk donation. I am a special education teacher and have always wanted to be a mom. I met my husband Matthew almost 11 years ago, and we always knew we wanted a big family. We now have three beautiful children, and every day seems to bring something new and exciting.
When we got pregnant the first time it was unexpected, but very exciting. I had a great pregnancy, and knew I wanted to breastfeed my son when he was here. When Brecken was born I expected everything to just go according to plan, but it was HARD. He had a tough time latching at first, and I hated not knowing what he was getting. I tried to pump but I wasn't getting as much as I needed to keep up with him. As a first-time mom the experience was so draining, and at times discouraging. We supplemented with formula, and once I went back to work when Brecken was six months old my breastfeeding journey was done. We completely went to formula. I felt relieved and a little sad to not be able to breastfeed anymore, but as long as he was fed and happy I was, too.
Exclusively pumping with a second baby
When we got pregnant the second time with Maisie, I vowed to research breastfeeding a little more to keep up my supply. I remember when she was born she latched immediately, which I think made a big difference. With Brecken, if he slept, I let him sleep. With Maisie I began to pump every two hours to keep up my supply if she was asleep. This made a huge difference! I nursed her early on often, but then pumping seemed like the easier route for me. By the time she was two months old I was exclusively pumping. I was sad not to nurse her anymore, but I was determined to keep up my supply, and when I went back to teaching, this was just easier for me. I pumped for a full year, and Maisie thrived.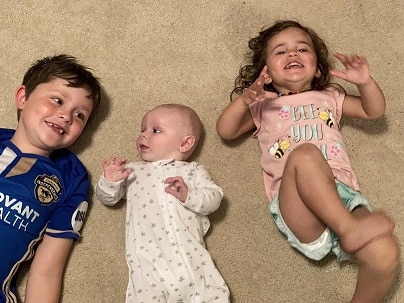 Anxious pregnancy, joyful breastfeeding
We got pregnant a third time during the pandemic. I was so nervous about the baby's health, and just being pregnant during this time. This was my toughest pregnancy with going back to work, and chasing around two other children. On January 21, my Bodhi came into this world, one day before his sister's birthday. He also latched right away, and we had a great experience bringing him home to meet his siblings, and my breastfeeding journey started again. Bodhi latched wonderfully and ate often. I pumped every two hours as I did with Maisie to keep up my supply, and to keep him fed. Unlike Maisie, I continued to nurse when I could to get that one-on-one time with him, which makes me so happy. I quickly started to realize that my freezer was filling up fast.
Helping during the pandemic
I knew the struggles of breastfeeding. To go from barely being able to provide, to an oversupply, I knew I wanted to help others. I started to consider donation to help someone who might feel the way I felt with my first. With the pandemic still going on, all I wanted to do was help someone, even if it was a little bit. I researched milk donation and found Mothers' Milk Bank Northeast. Everyone has made the process so easy, and been beyond kind in this journey.
At this point my family is used to me pumping. I try to be as efficient as possible. I went back to work when Bodhi was two months old, so pumping has been part of the process. I pump at work, I pump in the car, I want to make sure I keep up my supply for Bodhi and to continue to donate as much as I can. I want people to know that if you can help, help. Someone somewhere will appreciate even the smallest amount.
I'm excited to continue my breastfeeding journey, and hope I can continue to donate as much as possible!