At the end of August, we welcomed a new class of college public health students for volunteer work via Boston University's First-Year Student Outreach Project (FYSOP) program. During their two hours of help, the first-years:
Assembled 30 blood kits, 180 donor packets, 76 blood test instructions, and 84 Donor Intake folders
Stored 10 sets of shipping boxes
Labeled 643 bottles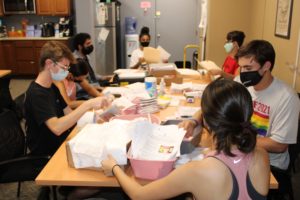 College Students: Fast Learners
It was a joy as always for us to host the BU FYSOP group; they first visited us two years ago. What really stood out to me this time around was how much they learned about milk banks and pasteurized donor human milk in such a short span of time.
After all, milk banks are almost unheard of among college students, so how do you even begin to explain the concept of it to them? As someone who graduated Emmanuel College in 2020, I would not have been able to tell you. Now, I can walk you through the educational process pretty clearly.
At first, the idea of breast milk in a lab may inspire a grimace. This is where we often compare our work to that of a blood bank—we just happen to serve babies in need of mom's milk instead! Then, the "Ooo Yick" factor subsides and it becomes clear how vital our work is. When students, let alone any visitors, come in and realize the beauty of what we do, they see the value of pasteurized donor human milk: the altruistic approach to saving babies and ultimately the most beneficial way to help them.
The BU FYSOP volunteers were particularly fast learners and seemed to understand our mission pretty quickly. The first-year students made terrific contributions with each activity, helping out our staff enormously. We wish them all the best in their endeavors, with the hopes that it was as rewarding for them as it was for us. More than anything else, we are thankful for their time.
Educating and Inspiring More Students
With this experience in mind, we intend to educate and inspire more students in the future. We hope that they will incorporate their experience volunteering with us into the perspective they will bring to maternal health and other fields of work. The impact of milk banks reaches further outward than it seems, and you never know—there may be a mother you know in need!
Interested in volunteering at the milk bank with a group or as an individual? Contact us or fill out the Volunteer Intake form on our website.