On September 28, we reopened our depot at Acelleron in North Andover, Massachusetts in style. With the help of our donor moms and Bikers for Babies, it was truly a hybrid event to remember!
The grand reopening was held on Facebook Live, but featured donor moms who stopped by the office to hand off their liquid gold. They donated an outstanding 628 ounces of milk in total! Some even brought their adorable children to the event.
During the livestream, one of our Bikers for Babies spoke about the value of mom's milk. Then, she rode off to our offices in Newton, where she dropped off the milk. No matter the task, it seems to be all in a day's work for the women's motorcycle group.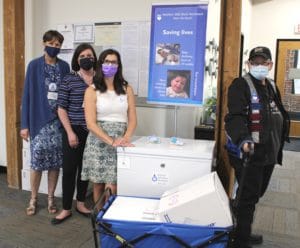 This depot grand reopening serves as yet another recent ribbon-cutting for us. We currently have twenty-nine depots, with Acelleron being one of our earliest partners. Originally opened in 2015, the North Andover location was closed while they moved their offices across the street. It now accompanies depots at two other Acelleron offices—one in Bensalem, Pennsylvania, and one in Guilford, Connecticut. With all three now open, each will serve as milk drop-off locations for mothers looking to help babies in need.
We are excited to partner with Acelleron. Without the efforts of their staff, our donors, and the Bikers, our mission would not be possible.
For more coverage: