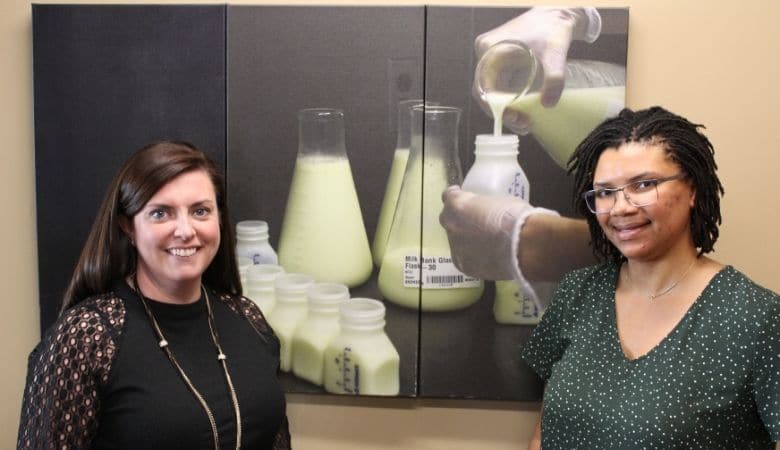 A doula is a professional trained to support families emotionally and physically during pregnancy, labor, childbirth, and the postpartum period. Studies have linked doulas to improved outcomes and satisfaction for birthing families, as well as lower incidence of birth interventions, including cesarean section. In honor of World Doula Week, we interviewed two staff members at Mothers' Milk Bank Northeast whose backgrounds include doula work—Lab Manager Shantel Collins and Director of Client Relations Bryanne Bradley.
What kind of doula work do you do?
Shantel: When I'm not working at the milk bank, I spend my time working as a birth doula supporting families mostly in the Central Massachusetts area. I have my own small business where I take private clients who pay for doula support out-of-pocket. On occasion, I partner with other birth doulas in the Central Massachusetts area, making on-call life much more sustainable. I also work part-time for Accompany Doula Care, a doula agency that partners with Accountable Care Organizations (ACOs) to improve birth outcomes for its clients, particularly those that identify as a BIPOC, who statistically are three to four times more likely to die of childbirth related complications.
Bryanne: I am a childbirth and postpartum doula. I specialize in high-risk pregnancies and births as well as parents of multiples. As a mom of four in three years, including a set of identical twins, I thoroughly enjoy helping parents of twins and triplets. Now that I work full-time at the milk bank, I only offer limited virtual support and sleep consults.
In your doula work, how do you support breastfeeding?
Bryanne: I let parents know from the beginning that even though breastfeeding may be the natural way to feed your baby, it hardly ever comes naturally! I think acknowledging from the beginning that breastfeeding can be challenging is a good thing. Mothers are learning their babies and babies are learning their mothers. It's a journey and process together.
Shantel: I truly do enjoy supporting my clients in reaching their infant feeding goals. For those who choose to breastfeed, I support them in my role as a doula by helping baby to latch during the "golden hour" after birth. This is an important time for bonding between parent and baby, perfect to begin breastfeeding. Before and after birth, I support my clients by providing them with evidence-based informational resources on breastfeeding, so they can make decisions that are right for their baby and their body. I support breastfeeding by connecting my clients with local CLCs and IBCLCs who can offer breastfeeding expertise that is beyond my scope as a birth doula. About one to two weeks after birth, during my postpartum visits with my clients, I support breastfeeding by encouraging and affirming them through the very emotional process of feeding their baby. I celebrate with them when they are able to pump 60 ml of milk, and I hold their hand if they need to cry, because waking up in the middle of the night to nurse a fussy baby and navigating all that comes with parenthood sure is hard.
Do you talk with your clients about donor milk, or give them information on it?
Shantel: I encourage my clients to breastfeed if they can and if they desire to. If that is not an option, I encourage my clients to pump their milk and bottle feed their baby. If that is not an option, I encourage my clients to consider donor human milk, and if that is not an option, I encourage them to feed their baby with elemental formula. Often, the response I hear is "I had no idea donor milk was a thing," or "That sounds interesting. Tell me more."
Bryanne: I always talk to my parents about the option of donor milk. Donor milk is an excellent option for a full-term baby as bridge milk before mother's own milk comes in. However, more commonly my conversations with parents are around options in the NICU. Since most of my clients are high risk, there is a greater chance their baby will spend some time in special care.
What recommendations do you have for other doulas on educating their clients about donor milk?
Bryanne: First is to educate yourself. Reach out to local milk banks and see if they are willing to give a training or offer educational guides. Once you feel confident in donor milk it's very easy to guide your clients.
Shantel: Donor milk is not so mainstream. For those who have access to this lifesaving medicine, I say encourage them to ask questions. For clients who are fortunate to produce an abundance of milk, becoming a milk donor is another way clients can get involved.
Have any of your clients received or donated milk?
Shantel: Yes. A past client of mine was able to donate to Mothers' Milk Bank Northeast. I love having a "milk bank moment" like that!
Bryanne: Yes! I worked postpartum overnights for a family and they used donor milk to supplement their twin babies.
As a doula, is there anything you know now about milk banking that you wish you'd known before you worked here?
Bryanne: The use of donor milk as supplementation or bridge milk can decrease a baby's risk for food sensitivities and allergies and even risk for diabetes.
Anything else you'd like to say?
Shantel: Doulas are magical! If you are expecting or looking to become pregnant, I would encourage you to find a doula. We come in all shapes, sizes, and flavors. Finding a doula that you jive with is a worthy investment in your pregnancy and birth experience.
Bryanne: Being a doula is an extraordinary job where you are supporting a family during a vulnerable time in their lives. Having the knowledge to help guide them in making the right decision for their family is a priceless reward!