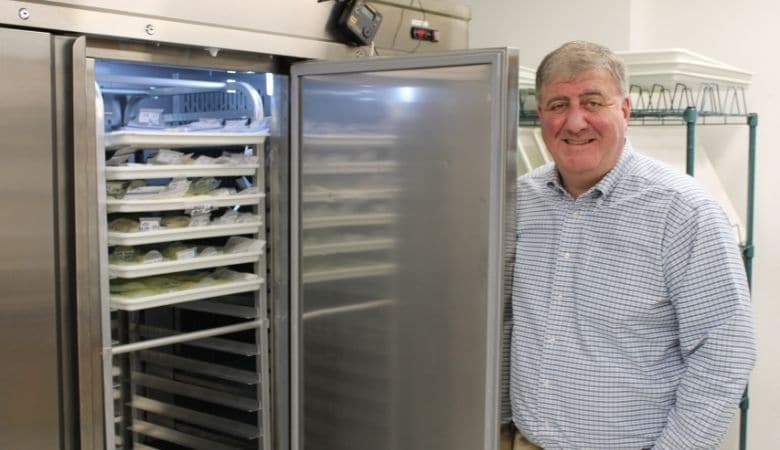 Welcome, Steve! It's Lab Professionals Week, so we wanted to get to know you, our new Director of Operations and Lab Production. Tell us about your responsibilities at the milk bank.
My role has a number of functions. First and foremost it is to oversee the production of the donated milk from when it comes in the door to when it is shipped to recipients. I work with the lab team to ensure the milk is safely handled at each step of the process and that we are respecting the integrity of the milk as we move it from raw to pasteurized. We have a number of systems in place to ensure every step of production is checked twice to provide a truly safe and healthy product for every baby we serve. I am also tasked with looking at our whole operation and finding efficiencies so we operate in a more cohesive and productive manner. My job is to place a critical eye on everything we do, collaborate with all our team leaders, and hopefully design improvements so we can grow our impact.
What would you like the public to know about our milk bank's lab?
Since I've joined I've been impressed with the level of commitment from every single person who works in the lab. They are all dedicated to delivering every ounce of milk they can in the safest, most productive way possible. The lab is managed by Shantel, who has created a great culture and one we are working to enhance as this team grows together.
What's your professional background, and how did that prepare you for working here?
I come from the food science and hospitality industry. In a nutshell, I have always been a food guy. Everything I have done has revolved around serving great food safely and creating memorable experiences. I was a chef and a manager, most recently for independent and assisted living facilities as well as skilled nursing. Working in the hospitality industry prepares you for anything that can be set in front of you. You learn to pivot on an hourly basis. So that experience has allowed me to roll with whatever comes my way here at the milk bank.
Do you have any goals or priorities you can share?
My main goal is to work with the milk bank team to elevate the great work that is already being done. This place has the potential to grow and support more babies and families and I want to help it get there.
What attracted you to the milk bank?
My firstborn child was premature and had to spend a couple of weeks in the hospital before coming home. During that time my wife could not breastfeed our daughter so she ended up donating her milk. This experience was very positive for both of us and its memory brought me here.
Has anything surprised you in your new work? Or have you learned anything new or unexpected?
Milk banking is new to me. I'm learning every day. The level of detail and attention needed to process this milk is significant, and I am amazed at how everyone is so committed to excellence. It takes a lot of skill and presence to work in the lab and outside of the lab, and every person here is 100% bought-in. It's a great thing to be a part of, and I'm continually learning not only about processes but about what it means to be a part of a group that is unified in its dedication to doing the right thing and ensuring that babies and families in need get the milk they deserve.
What would you tell someone else who was considering applying for a job at the milk bank?
I would say you would be a fool to pass up this opportunity. This place has a great vibe, a growing culture, and some amazing people. This is the type of place where people want to come to work.
Would you like to tell us anything about your personal background, family, or interests?
As I said, I am a trained chef. I have owned my own restaurant and had the opportunity to work with some of the best chefs in Boston. My wife oversees and cultivates one of the best and craziest greenhouses in Massachusetts at Stonegate Gardens in Lincoln. It is the Disney World of greenhouses and a must-visit for those interested in the plant world. She will take you on a "magical mystery tour." We have two amazing kids and two wacky dogs, a German Shepherd and a Doberman, who love to go on long walks in the woods.
Is there anything else you'd like to share?
The milk bank is doing great work and looking to expand to serve as many more babies as we possibly can. We are hoping to start raising funds for expansion, so if anyone who reads this feels philanthropic, please do what you can to help us out. We have big plans and hope to take this already awesome operation to another level.