When a milk donor shared a photo of her three children, and we realized she had donated milk with all three, we got curious: how many three-time donors did we have? Was she the first? Imagine our surprise when we found out that we had nine!
Mothers' Milk Bank Northeast was incorporated in 2007, and we started screening milk donors in 2011 (it takes that long to rally community support and set up the infrastructure needed to run a milk bank). As our organization matures, it makes sense that many of our donor babies become older siblings, some of them several times over. But it's no small commitment to raise a growing family and find time to pump extra milk on top of that. We asked some of our three-time donors to tell us what motivated them to donate the first time—then again, and again. Several are healthcare providers themselves, two have lost children, and each one has an inspiring story to tell.
Sarah's Story: A Surprise Abundance of Milk
I decided to donate my milk because I had an abundance that my babies could never use and I hoped it would help other babies. I really had no idea before having children if I would be able to breastfeed and if I would have enough milk. I had to go back to work very soon after my first was born and pumped all the time. It resulted in a bit of an overproduction issue. Who knew?! I was happily surprised to find I had more than enough milk, and I wanted to share this with other babies who needed it and hopefully give some reassurance to new moms that their babes were getting the good stuff. It's such a crazy journey as a parent, and I feel like helping others every little bit helps me too.
I feel so lucky that I've been able to feed my children and wanted to spread the wealth each time. Donating has been a seamless process for me, and incredibly rewarding.
Eunice's Story: Sharing the Blessing of Three Children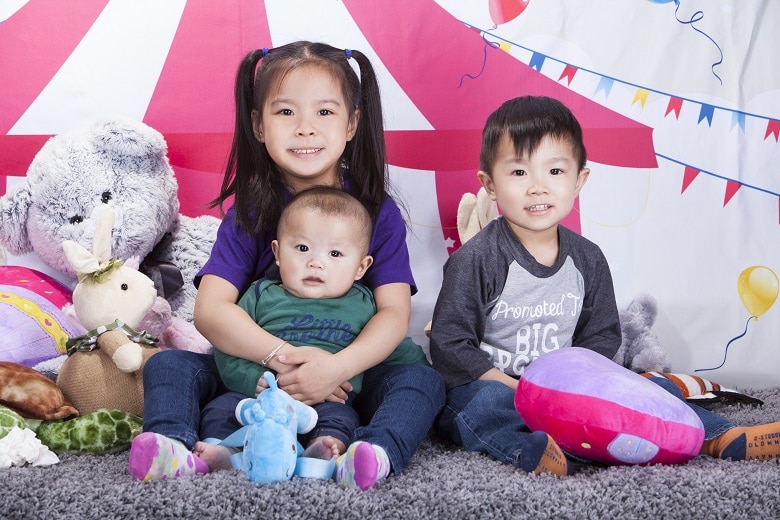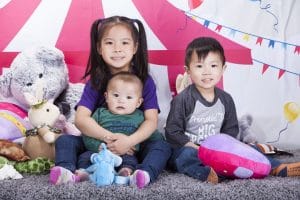 Why did you donate milk the first time?
I told the pediatrician that I was producing a lot of breast milk. She told me I could donate it. I thought this was a great way to pay if forward since God had blessed me with a healthy child and a lot of breast milk. I think the hardest part was looking for a milk bank. The first time, I ended up donating to three different milk banks. Mothers' Milk Bank Northeast made the process easiest and simple.
Was your donating experience different the second or third time?
The following times I only donated to Mothers' Milk Bank Northeast. The second and third times were even easier since I knew what I could expect. It was great that you ladies remembered who I was.
What else would you like to say about your milk donation experience?
Thank you to you ladies for making it a great experience. This was my way of giving back since God had blessed me with three healthy kids. It felt great knowing that each time I pumped I would be feeding not only my child, but preemies in need of breast milk to survive. I truly recommend becoming a milk donor; it is a heartfelt, rewarding experience.
Nellie's Story: A Nurse Knows the Difference Human Milk Makes
All three of my babies were born via C-section (my first being an emergency C-section), a huge shock to me, since I had considered home birth and had tried so hard to have a natural birth in the hospital. Breastfeeding was difficult at first, but has been healing to me after all three C-sections.
I donated milk the first time because I happen to be an "overproducer" of milk. Each night I go to work (I work night weekends at a hospital) I pump three times and stash way more volume than my baby needs while I'm gone. Luckily my babies have slept well for my partner while I'm at work. I pretty quickly end up with a freezer full of frozen milk. I read about milk donation in my Womanly Art of Breastfeeding book. As a nurse, I know that lactation is difficult for most and impossible for some, but that the benefits are enormous, especially in those first days for babies' immunity and gut lining. No baby should have to endure necrotizing enterocolitis or other problems because breast milk is unavailable. Being a mother to a new baby is a tough job and I thought that if I could help one or two families by donating all my excess milk, then I better do it. Breastfeeding has surprised me and been one of my favorite life experiences and I've been lucky. It has brought me great joy to share with others. I know that when I donate through Mothers' Milk Bank Northeast my milk will be pasteurized and tested and safe for the babies who need it and it is even used frequently in the NICU in the hospital where I work.
The process of being vetted to donate milk has been easy and fast for all three of my babies, and I have shipped my milk in and used two different drop-off sites, all very easy to do. My last drop-off, I didn't even need to get out of my van, just pulled up with my three kids and box of milk and the nurse was standing outside waiting to help me. With young children it's hard to find time to give back to your community and I have found that giving back in this way has been totally worth the effort.
Also, I have once or twice around the holidays tried to pump extra for a few weeks at home and send in a milk donation in the spirit of holiday giving. My goal is to try to donate one more time before I am done breastfeeding.
I am quite passionate about breast milk and actually dream of becoming a lactation consultant someday when my kids are older and I'm no longer doing nights!
Katie's Story: A High-Risk OB Helps Preterm Babies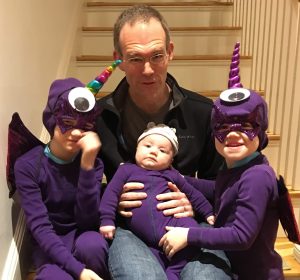 Why did you donate milk the first time?
I had extra milk and I wanted it to have the most benefit for other babies possible.
Was your donating experience different the second or third time?
I had even more milk!
What else would you like to say about your milk donation experience?
As a high-risk obstetrician who commonly delivers preterm babies, I am grateful to be able to give back by donating my extra milk and for the amazing resource of the milk bank that allows hospitals in this area to receive donor milk for the neediest babies.
Won's Story: A Physician Motivated to Pump for a Purpose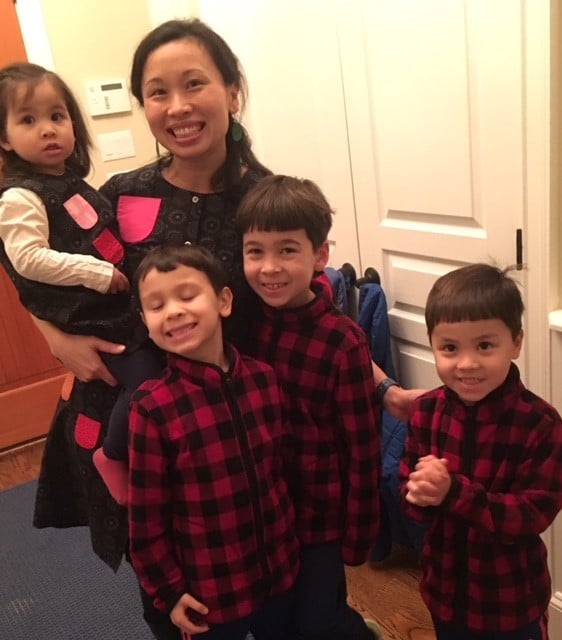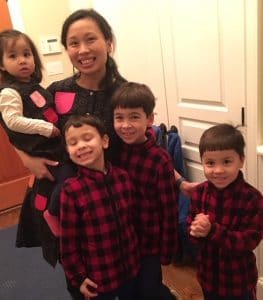 Why did you donate milk the first time?
With my first baby, I nursed and pumped and worked as a full-time physician, so keeping up a supply and having a freezer stash was difficult and very stressful. I never had more than 30-40 ounces in the freezer and I constantly worried that I'd fall behind. But somehow we made it! Then with my second child, I started to build a stash when he was a month old. And this time around it wasn't as challenging since I guess my body adapted and I was probably less stressed. So then I built up a big stash and I could see I wasn't going to use it, so I wanted to make sure it went to good use! I called Mothers' Milk Bank Northeast to ask about donation and the whole process was a little bit of work and time, but it was so rewarding to know that my labor of love was not only helping my baby but also other babies out there–so it kind of kept me going in terms of reaching my nursing and pumping goals.
Was your donating experience different the second or third time?
I would say it was easier because I knew what to expect and how the process worked. As soon as I started pumping, I knew that I would and could donate again, so it motivated me to pump because I knew it was for a worthy cause. With each subsequent addition to our family our lives got busier and busier. But having the motivation that I was pumping milk for my baby and a worthy cause helped me to prioritize pumping and storing milk. And because life got busy, it was wonderful that Mothers' Milk Bank Northeast was so accommodating in the ways I could drop off milk or have it picked up when it was convenient for me.
What else would you like to say about your milk donation experience?
I would recommend it for anyone who has extra milk stored away. I think it is important to think about helping others—especially women, mothers, families, and children—and that there are many ways to help others. Some people donate money, others donate time, and then some may donate milk! I have my certificates of appreciation up on my kitchen wall and I am proud that my children and I could donate for those brief periods in our lives!
Hava's Story: To Save Other Parents from Heartbreak

Why did you donate milk the first time?
With my first child, I was lucky enough to stay home until she was four months old, and milk donation was never on my radar. With my second child, I was scheduled to go back to work when he was nine weeks. I was worried about pumping enough, so I pumped as much as I could over my maternity leave to build a freezer stash. My first week back at work, one of his daycare providers put him down on his stomach for a nap, against my direct instructions. He never woke up and I was left with a large freezer stash and no baby to feed. My sister-in-law researched milk donation and connected me with Mothers' Milk Bank Northeast. I was so grateful to have my son Joey's milk potentially save other parents from the heartbreak of infant death.
Was your donating experience different the second or third time?
When I had my third and fourth babies, donating milk was a priority for me. I chose to take a full year off with both of them but worked hard to fit in extra pumping sessions in order to be able to donate. It was tough, but I wanted to do my part to make sure the babies who need human milk the most are able to get it.
What else would you like to say about your milk donation experience?
Mothers' Milk Bank Northeast made the whole process so easy and I would strongly encourage any moms with extra milk to look into donating to the babies who need it most.
Andrea's Story: Honoring Baby Ryan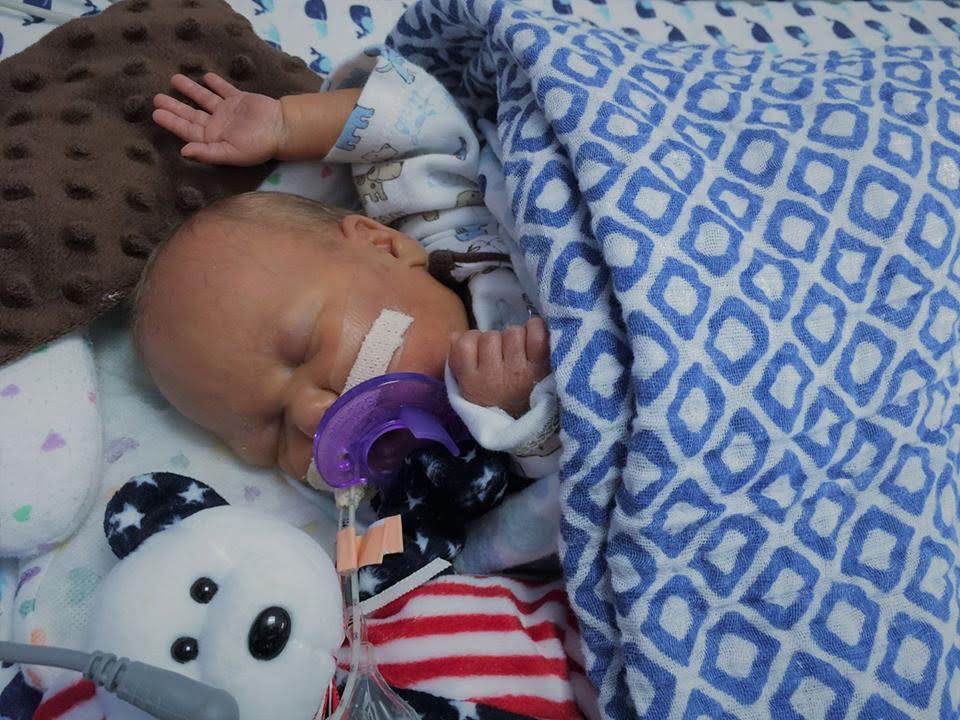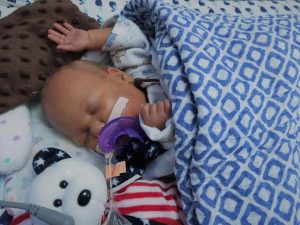 Why did you donate milk the first time?
My son Ryan was born very premature (24.1 weeks) due to my having an incompetent cervix. We were in the NICU with him for 2.5 months and he wasn't able to tolerate my breast milk due to various medical reasons. I pumped hoping that one day he would be able to eat. He was able to a few days, one milliliter at a time. Ryan passed and I was left with a huge chest freezer full of milk. I was made aware of the milk bank through the social worker at the hospital. My husband and I decided that we wanted to share Ryan's milk with other premature babies hoping to save even one life. After he passed away I continued to pump and slowly wean. This was the hardest part of the process but worth it knowing it was helping other little souls.
Was your donating experience different the second or third time?
The second time I donated was a true honor. My husband, Trevor, and I were a part of the opening celebration of Nini Bambini as a drop-off site for Mothers' Milk Bank Northeast. This was also the day of our second wedding anniversary so it was a memorable experience. It was another honor to be able to donate "Trevor's Milk" in honor of his brother Ryan.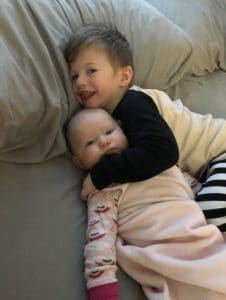 The third time we donated "Callie's Milk" in honor of Ryan. I was able to go with both my kids and husband to Nini Bambini and drop off the milk. Knowing that I was able to donate milk for a third time and from all of my children really makes me feel complete. It was bittersweet this time since I knew it would be my last. I would like to say that I don't produce a ton of milk; I was regimented with every three hours, sometimes two, and stuck with it! Lots of tears, in a good way.
What else would you like to say about your milk donation experience?
I truly cannot thank the milk bank enough for how generous they have been to my family. Every year, my husband and I, my brother-in-law, mother-in-law, and mom donate financially to the milk bank to honor our sweet Ryan and it never gets overlooked. My family enjoys the thank you cards, the birthday cards for Ryan, and the things you do to honor those that have donated after loss. The way the milk bank honors Ryan for us is something we can never thank you enough for.
Thanks to Our Three-time Milk Donors
Thanks to all of these busy moms for making the time in their lives to help fragile babies through milk donation, three times over!
Screening to become a breast milk donor is done through an easy four-step process. Once accepted for donation, milk can be shipped for free door-to-door or through one of our donor milk depots throughout the Northeast.