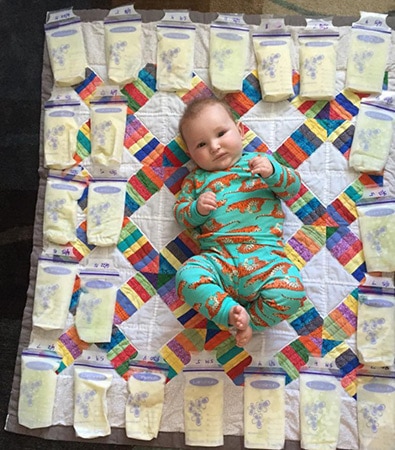 My name is Caitlin Edwards and I have a seven month old son named Wyatt. We have donated about 260 ounces of breastmilk!
I work full time as a nurse in a hospital on the maternity floor so I am surrounded by babies all day. Donating has always been something I wanted to do and I feel like it is just as important as donating blood but there even fewer people (and only for a certain amount of time) that are able to donate.
I'm am very busy at work but I make sure I get my two breaks and I spend them pumping, drinking water and eating. I have the Freemie pump and the milk collects into cups that fit into your bra which has been a huge factor in my continuing to pump. My hands are free and I am decent!
My husband helps too, he always unpacks my pump bag when I get home and he washes all of my supplies. I feel very fortunate that I have a healthy baby and that we are able to share with those moms and babies that are in need of breastmilk.
Screening to become a breast milk donor is done through an easy four-step process. Once accepted for donation, milk can be shipped door-to-door or through one of our donor milk depots throughout the Northeast.