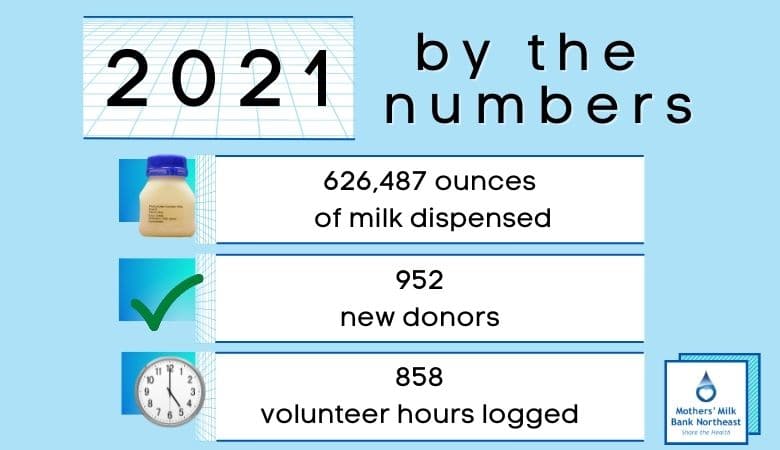 In 2021, Mothers' Milk Bank Northeast continued to adjust to the COVID-19 pandemic, making impressive gains and having plenty of fun while providing more lifesaving milk to babies in need. As we welcomed new donors, recipients, hospitals, depots, dispensaries, and staff, we continued to fulfill our mission.
Our gains by the numbers
We made several impressive gains over the past year. Most notably, our amazing Donor Intake team approved 952 donors, which is an increase from the 882 we approved last year. Our staff's hard work ensured continuous growth throughout 2021. We enjoyed meeting each new donor, as well as seeing their photos and interacting with them on social media.
We dispensed a total of 18,527,432 ml (626,487 oz) of milk to recipients in 2021. Many of these babies received milk at one of our over 100 hospitals. The figure is a significant gain from the 522,137 ounces we dispensed in 2020, one for which we credit our wonderful staff, including both our Orders and Laboratory Departments.
In addition, our dear friends from Bikers for Babies picked up and delivered a total of 1,002,337 ml (33,893 oz) of precious milk. This is almost a tenfold increase from their pickup totals last year. When asked, the Bikers have stepped up and been a huge help.
Fun-filled events
We celebrated several major events at the milk bank and on the road. At our offices, we welcomed Bikers for Babies for our second annual Empty the Tank for the Milk Bank event with our depot at ProHealth Physicians – Glastonbury Pediatric and Adolescent Medicine. Additionally, students from Boston University volunteer programs helped out with urgent materials.
On the road, we celebrated grand openings at Personalized Pediatrics of Maine and Keeping Pace with Multiple Miracles. Also, we ceremoniously reopened our Acelleron depots with a lovely hybrid event, as documented in our news video. We now have 28 depots, which received a total of 2,546,927 ml, or roughly 86,086 ounces, of donor milk in 2021. We also have six dispensaries thanks to our most recent openings.
New faces
We welcomed several new faces to the milk bank, including our Executive Director Deborah Youngblood. She is a seasoned nonprofit and government leader, whose vision will lead us to help more vulnerable families. We look forward to making more gains under her leadership.
In 2021, we brought several other new staff members and volunteers aboard, with the volunteers logging an impressive 858 hours. Members of each department have contributed to our mission, not to mention the work of our fantastic partners. Overall, we are grateful for the ongoing efforts of everyone on our team. We continue to bring donor milk to babies in need, keeping in mind that each drop and every hour counts!